The Online Industrial Exhibition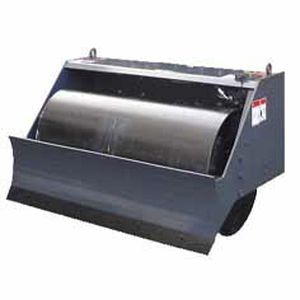 single-cylinder wheel compactor
11.VR.RL600
APPLICATIONS - Compacting of dirt and sand - Rolling and compacting asphalt - For SSL and Articulated loaders FEATURES Avaliable in smooth or padded drums
See the other products
ATTEC N.V.

wheel compactor
1 250 - 1 850 mm, ø 610 mm | RC series
Aplications High performance and powerful vibratory roller, specially suited to compaction in the maintenance / repair of streets, highways, roads and forest tracks. FEATURES Designed for ...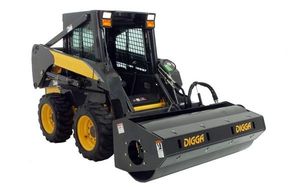 road roller
2 600 vpm, 3 500 - 4 250 kg | VR series
... hydraulic drives of the roller are protected and isolated to provide maximum performance and reliability. These hard-hitting units can deliver up to 3500kgs of dynamic force when operating at 95LPM. It's versatility ...

duplex road roller
8.5 - 14 hp, 1.9 - 2.6 t | DR series
Engine power: 8.5 ch - 14 ch
Manually operated, double drum, Vibratory Roller is an economic machine with long life used in road construction and repair, sand-gravel mixture ground works, side walk and pavement canal works, asphalt ...

duplex road roller
13 kN, ø 420 mm | RD 7H series
Operating weight: 810 kg - 830 kg
The RD 7 is a walk-behind double drum vibratory roller. The smooth drums with beveled edges work equally well with asphalt and granular materials. Therefore the machine is suitable for a wide range of soil and asphalt ...
See the other products
Wacker Neuson SE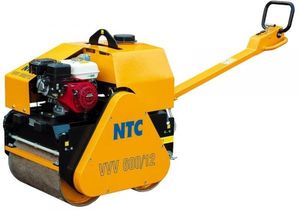 duplex road roller
VVV 600 / 12
Operating weight: 560 kg
Engine power: 4.1 kW
Application: Walk-behind rollers of the VVV line are suitable for both asphalt and soil compaction. They are often used at construction of sidewalks, parking lots, finishing works, road repairs, etc. ...
See the other products
NTC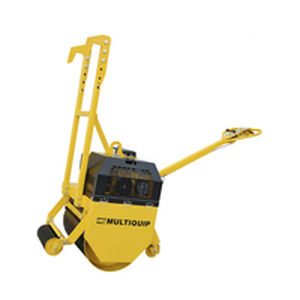 single-cylinder road roller
V305EH
Operating weight: 530 kg
Patch and go with Multiquip's one person patch crew- the V305EH walk behind roller. Designed to meet operator expectations for easy steering and transport, it is the ideal option for small repair and maintenance jobs. ...
See the other products
Multiquip, Inc.

duplex road roller
TDX650
Operating weight: 675 kg
Engine power: 5.2 kW - 7.4 kW
A brand new Twin-Drum Walk-Behind Roller with Hydrostatic drive system. The TDX 650 has a high compaction force but is also compact with well positioned controls making it easy to operate. Suitable for a wide range of ...
See the other products
BELLEGROUP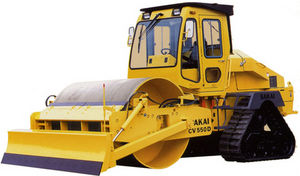 single-cylinder road roller
max. 14 200 kg (31 310 lbs ) | CV550D/DV/T
Operating weight: 13,700 kg - 14,200 kg
Engine power: 126 kW
The CV550 Series of Vibratory Soil Compactor is designed with track drive, which enables these machines to conquer steep slope applications while compacting. The machines provide a cost-effective means of compacting ...
See the other products
SAKAI HEAVY INDUSTRIES

single-cylinder road roller
ø 500 mm, 1 500 kg | MR series
Ideal for all small job such us compacting soil uneasy to get with a normal drum roller. Quality material Easy to use Easy to transport Reduced maintenance Waste range of operational machinery applicability ...

single-cylinder road roller
max. 14 910 kg | H 11i
Operating weight: 11,535 kg
Engine power: 105 kW
3-point swivel joint for optimum driving comfort Optimum ease of maintenance, long service intervals Ergonomic driver seat for perfect all-round visibility Excellent hill climbing ability via self-locking differential ...
See the other products
HAMM AG

road roller
51 t | SWQH320
... dedicated chassis Large Tread Design (5300mm), ground pressure, high stability; four leg support (optional) crawler telescopic device to protect the crawler telescopic cylinders; travel agencies fully ...
See the other products
SUNWARD INTELLIGENT EQUIPMENT CO.,LTD.

... asphalt. Model HT50A-713000 Total Width 1720 mm Steel Roller Width 1614 mm Height 565 mm Depth 864 mm Steel Roller Diameter 530 mm Weight 872 kg Vibrating Force 31 kn Vibrating Speed 2600 Vpm Steel ...

single-cylinder road roller
7 800 - 18 800 kg | X series
Operating weight: 7,800 kg - 18,800 kg
Engine power: 82 kW - 129 kW
LEBRERO offers a complete range of rollers, with a different model for every different type of work. The smallest models, X2 and X3, combine versatility with economy in costs. Both of them adapt to repair works as ...
See the other products
COMOPLESA - LEBRERO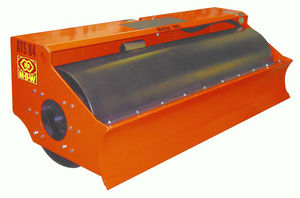 wheel compactor
939 - 1 111 kg | ATS, ATP series
... provide MBW attachments with the industrys lowest incidence of bearing and seal failure. A knockdown blade is integral to the roller frame. Vibrating drums are isolated from the frame minimizing transmission of vibration ...
See the other products
MBW Incorporated