robotic packaging cell
Flexi-Pro
The Flexi-Pro Robotic picking cells from R.A Jones are capable of sorting, collating, orienting, and placing the items concerned precisely. These are fitted with sensors that detect the orientation of ...

robotic depalletizing cell
40 - 100 p/min
This Robotic cell by Hartness International is designed for palletizing and depalletizing operation. The unit is known for its largest installed base having a superior speed palletizing system existing ...

dispensing robotic cell
ZYX series
It is a robotized system working on 3 interpolated and programmable axis (X-Y-Z), conceived for industrial automation with Z axis control for product distribution even at different depths. The product can be distributed ...

The Dispensing robotic cell Series, manufactured by Fusion Incorporated®, is a laboratory dosing robotic cell with a brazing paste. Wherein, it is designed for the source ...

robotic depalletizing cell
C30 series

robotic depalletizing cell
max. 90 /min | C33 series
... operations and maintenance tasks and to allow easy cleaning. C33 Robotic Depalletizer/Palletizer Loading station with machanism to lift the pallet and move it longitudinally 3-axis intelligent robot ...

robotic loading cell
RC1250
Payload: 0 kg - 5 kg
Can be matched to the machine as a modular option Fanuc LR Mate 200iC model 5-axis robot incl. R-30iA control Up to 4 pallet locations with 600 workpieces max./pallet Tool diameters from 3 to 12 mm ...

robotic packaging cell
RobTeq
The RobTeq Cell is a fully automatic robot cell for all kinds of products to meet the most diverse packaging requirements. These include folding cartons, bottles, blister packs, tubes, ...

robotic handling cell
max. 25 kg
For automatic production systems a parts feeder to robot is one of an important element. If orientation and position of workpieces are not accurate, automatic system will not run efficiently. Frequently, sensitive or ...

robotic welding cell
Robotic Cell
Preco offers a standard robotic processing cell for laser cutting, welding, heat treating, and cladding applications utilizing fiber delivered laser sources and the latest technology 6 axis robots. ...

milling robotic cell
FlexTrim Milling
The FlexTrim Milling by Frimo Group GmbH is a milling robotic cell which feature its ergonomic design and optimal component access. For this specific image, it is positioned in an exterior view. Using ...

... production of lithium-ion cells. The IBG facility implements new ceramic technology for the construction of the cells. Sophisticated gripping systems for ultrathin electrodes and separators (<100µm) ...

... system for the assembly of hub bearings IBG solution: Robotic cell with camera and screwing system System benefits: The time-consuming manual screwing is considerably reduced by an intelligent robot ...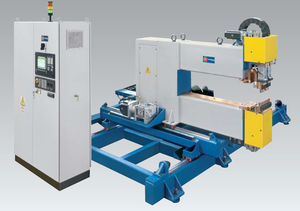 robotic welding cell
VOYAGER
VOYAGER equipment is a robotized system working on more axes for resistance spot or projection welding of work pieces placed in proper jigs. Flexibility, productivity and easy programming are the main features of VOYAGER ...

robotic bending cell
max. 3 140 mm
... for automated bending systems or robot bending systems. For several years now, Haco has improved upon its unique approach to automated bending. Thanks to thorough innovations in software and hardware, a robot ...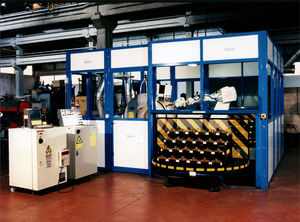 The main advantages are numerous: - The capacity to conform to the geometrical differences of pieces that are obtained with foundry or stamping processes and, therefore, that are not perfectly equal one to the other. - The possibility ...

... technical know-how, developed by CAMA since 1988 on robots and robotized systems, is the solid basis on which CAMA can now offer a wide range of packaging task dedicated loading units equipped with 2 ...

robotic packaging cell
max. 200 p/min
Monobloc robotic loading unit with integral forming and lidding machines for packing chocolates pouches. Production speed: 200 pouches/minute

robotic loading cell
ER 330
ER 330 loading robot fully automated depositing The automation solution for industrial producers the ER 330 loading robot for fully-automatic sausage and minced meat production through to packaging. ...

... finishing of different pieces, even totally automated small batches with several hours of unatended operation. The modular cell includes robot, belt-grinding units, polishing units and parts magazine.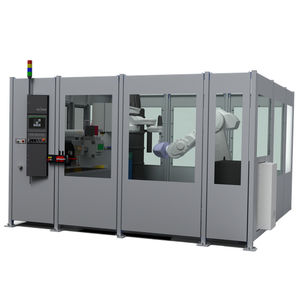 composite materials fabrication robotic cell
SAMBA
Payload: 100 kg
... hand laminate to robot-assisted manufacturing. Our experienced composites and process engineers assist and advise you with expertise in both conception and implementation. Fully automated production of complex 3D ...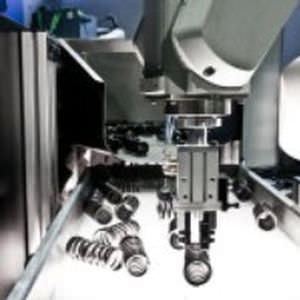 robotic loading cell
BRB 700
Kamatech's BRB 700 Systems are part of the company's product line of robotic island devices. These systems feature primary robotic arms that are guided by camera deals with the disc's loading stage. They ...

... Mössner decoring cell adapts to the individual cast part, and even in mixed operation enables its thorough decoring in connection with automatic part recognition. The high-performance decoring box is automatically loaded ...

The automatic deburring is controlled by freely programmable robots. The six-axis handling of the cast parts at different processing stations allows fine deburring, for example, of the separation burrs with high-frequency ...