The Online Industrial Exhibition

robotic depalletizing cell
IML
Modular automation system dedicated to the production and decoration, by IML application of plastic products. Modular configuration of up to 9 servomotors Also suitable for Stack Mold applications Manual adjustment of the ...

robotic depalletizing cell
EUROBOT
Dedicated to packages handling and palletizing, the system is equipped with a linear robot with 3 controlled electrical axes (brushless synchronous), a supporting structure and a pallet housing support. The robot, equipped with a special ...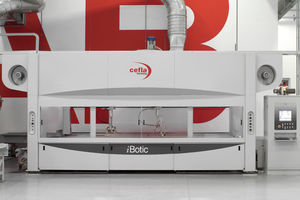 spraying robotic cell
iBotic
iBotic is a highly flexible, robotic, spray system which produces top quality panel and edge finishing even on complex shapes. With either single-arm or two-arm, simultaneous operation, the iBotic can work on either ...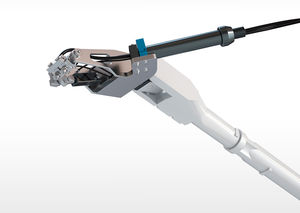 spraying robotic cell
iGiotto
iGIOTTO by Falcioni is a turn-key solution for spraying large, multi-dimensional, vertical surfaces exceptional precision. Featuring a two-gun application head, it's excellent for all substrates, wood, plastics, and other materials. ...

... is also indispensable, if the work conditions for a human being is unacceptable, or even not possible. Workflow for our robotic systems : the suited robot for each individuell case is selected due to the following parameter ...

robotic deburring cell
Max-Cell
Automation is a key factor in permanently guaranteeing high quality. The robot cell "Max-Cell" can be ordered with different options, depending on the customer's requirement, e.g.: Mechanical processing ...

robotic deburring cell
Max-Cell Modular
The modular design of the robot cell "Max-Cell Modular" offers you long-term investment protection as it can be adapted at any time to the latest tasks. Depending on the customer's requirements, various ...

robotic loading cell
feed|box
... indirectly into the tooling nest. The feed|box is suitable for stand-alone or inline operation and can be configured with either a robotic or gantry-style handling system.

TW36 is a flexible module, aimed at the assembly and check up of various parts in a high production environment. Its incredible flexibility allows it to face the largest variety of various market requirements. It is capable of producing ...

robotic dispensing cell
DC-RS 250
The slimline DC-RS 250 robot dispensing cell with the KUKA KR6 R900 is small and versatile. It is used to process 2-component materials. 600 mm wide with a max. part width of 350 mm Ideal for lean manufacturing concepts Compatible ...

The robot-operated bending cells is a highly automated system where the robot picks up the sheet to be worked from a loading area, accompanies it throughout the bending process, and deposits it in an unloading area. All ...

Hammond Roto-Finish has been integrating robotic systems since 1988. Our Robotic Finishing Cells serve a variety of industries ranging from aerospace to medical to automotive and everything ...

Automatic production line with robots to prepare the material, to load and to unload the press without any operators. Product High density thermal insulators plates (2400 mm x 2000 mm). Main functionalities of the line Material ...

robotic quality control cell
There are nowadays few plant systems that do not perform some test-related task or other; indeed quality control is often the main objective. Our involvement in hundreds of applications has supplied us with a large amount of know-how ...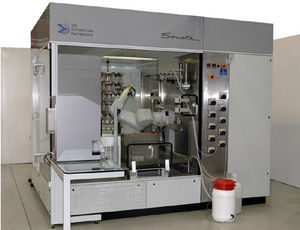 robotic laboratory cell
Sonata
Maintenance of cell stocks Cell line characterisation & selection Culture optimisation fed batch Stability testing Protein expression Automation of existing processes using standard shake flasks Management ...

robotic laser welding cell
white body
... laser welded parts can be increased more than 70% over conventional ones. Application: Automatic laser welding production line for white body manufacturing. Laser welding of outer plate of side-wall, top cover, top beam,.etc.

pick-and-place robotic cell
MULTI-AXIS PICK AND PLACE
Versatile multi-axis system designed for feeding machine stations. The Y axis can be realized with a rack and pinion driving system for multiple independent carriages or with a short belt system for connected Z axes. The motion systems ...

pick-and-place robotic cell
SP

pick-and-place robotic cell
SP-l

pick-and-place robotic cell
BAT
UPB realized an anthropomorphic manipulator to extract the bottle from the bucket and to place it then on the belt. In this case, BAT handles bottles of irregular shape and large size, of special materials (rubber), and delicate materials ...

robotic surface treatment cell
ResinDrone
SIMPLICITY FIRST: This was our watchword as we developed our robot for automatic resin treatment of slabs. We have designed it by taking a 5-axis interpolated machine as a model, a technology now well-established and widespread, and ...

... machinery, combined with the use of highly reliable robotic systems, has allowed for the optimization of the use of the machinres and it has enabled a reduction in the installation time for production lines and cells. ...

robotic handling cell
Robo-Trex
The Robo-Trex automatic handling system operates the machining centre from an automation trolley, which serves as a storage medium for the vices. Depending on the part size, the trolley can store up to 42 vices. Robo-Trex is optionally ...

robotic palletizing cell
YK-JQ

robotic test cell
SUNY-CIE010
... SMT Custom Automatic Inkjet Printer Custom Concept Design for BABI Machine Custom QSMC Packing Machine Custom Bending machine Custom Flex Pick and place machine Custom Automatic labelling machine Custom Automatic ...