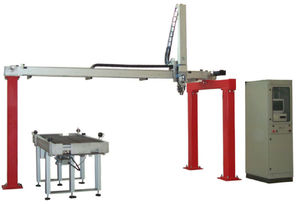 robotic palletizing cell
ALFIO series
See the other products
Italiana Robot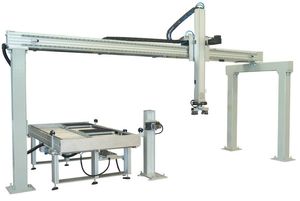 robotic loading cell
MOD11 series
See the other products
Italiana Robot

robotic depalletizing cell
IML
Modular automation system dedicated to the production and decoration, by IML application of plastic products. Modular configuration of up to 9 servomotors Also suitable for Stack Mold applications Manual adjustment of the ...

robotic depalletizing cell
EUROBOT
... handling and palletizing, the system is equipped with a linear robot with 3 controlled electrical axes (brushless synchronous), a supporting structure and a pallet housing support. The robot, equipped ...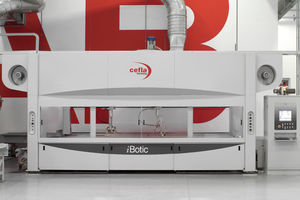 spray robotic cell
iBotic
iBotic is a highly flexible, robotic, spray system which produces top quality panel and edge finishing even on complex shapes. With either single-arm or two-arm, simultaneous operation, the iBotic can work on either ...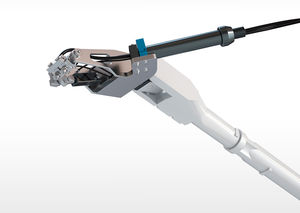 spray robotic cell
iGiotto
... Falcioni is a complete system which integrates the best coating technologies with modern water based products and a manipulator robot with high performances, specifically studied for the pieces coating, else of big dimensions. iGIOTTO ...


Highly flexible coating of parts with complex geometries: The Sprimag Robotic Coating Cell The Sprimag Robot Coating Cell is suitable for high performance and top quality ...

... statistical control of the process. The usage of Industrial robot is also indispensable, if the work conditions for a human being is unacceptable, or even not possible. Workflow for our robotic systems ...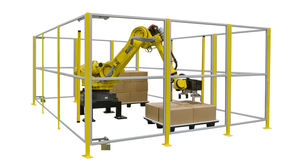 Serpa Packaging Solutions has partnered with FANUC Robotics to provide the most advanced robotic palletizing solutions in the market place. A Robotic Palletizer is engineered for precision ...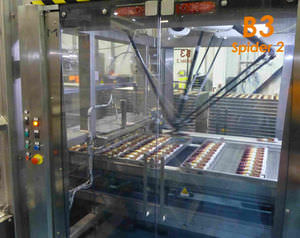 pick-and-place robotic cell
max. 100 pp | SPIDER
Thanks to the collaboration of the main producers of spider robots, Mespic can provide a wide range of solutions by using these types of systems for the product handling, merging and sorting.
See the other products
MESPIC S.r.l.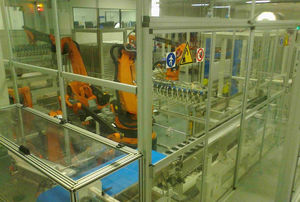 Mespic has developed several robotic system ad hoc deisgned for its customers. Mespic collaborates with the main robot builders on the market and also for these systems follows intenally the software ...
See the other products
MESPIC S.r.l.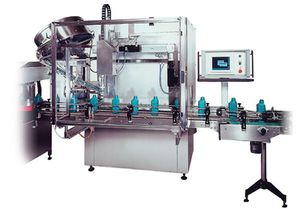 robotic bottle cell
CBM 600
Capping robot suitable for the capping of screw-type caps, press on caps, pump units and dosing inserts etc. in the medium output range.

robotic packaging cell
660 units/h
... fully automatically by a robot. Capacity: 660 packaging units / hour Setup includes: Base frame with guard Rotary magazine with 12 material shafts Linear stacking unit with lifting bucket Control with operating panel Scara ...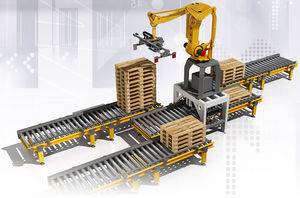 Thanks to the use of an anthropomorphic robot, WOODPECKER: Resolves of all issues related to the use of wooden pallets in production, during the handling with LGV, in storage and automated warehouses. Eliminates all ...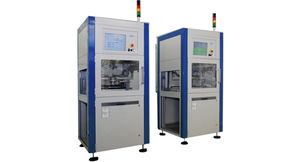 robotic welding cell
SINAX robot - hot iron - year 2012
... R&D activity and long experience, Sinergo has developed a new special equipment for soldering with hot iron called "Sinax robot – hot iron – year 2012". Features: high productivity handling on 4 Sinergo axes X Y ...
See the other products
Sinergo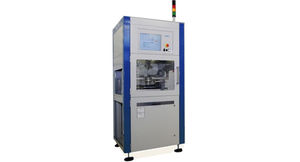 robotic welding cell
SINAX robot - e.m. induction - year 2012
Sinergo has deveoped new equipment for soldering with e.m. induction called Sinax robots e.m. The robots have high productivity handling on 4 Sinergo axes X Y Z R with speeds up to 400 mm/sec. Thanks ...
See the other products
Sinergo

robotic loading cell
feed|box
The Baumann feed|box is a flexible robotic platform for automated loading and unloading tasks of machining centers and injection molding machines. Parts can be loaded directly or indirectly into the tooling nest. The ...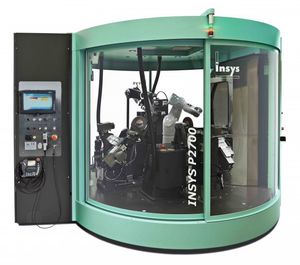 robotic polishing cell
P2700
The INSYS P2700 is the newest generation fully automated robot processing cell. It is the product of experience gathered from over 200 in the field processing systems, performing a variety of applications. ...
See the other products
INSYS Industriesysteme AG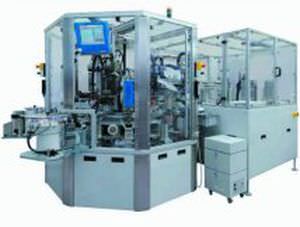 Our business sector Assembly Systems is focussed on automating assembly processes. Typically, different individual components are fed to a round indexing table and sequentially assembled to a module. Basically, the assembly process ...
See the other products
INSYS Industriesysteme AG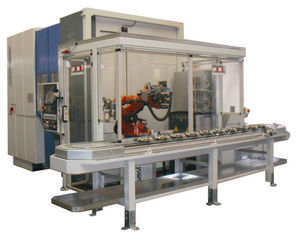 robotic loading cell
RZ-FR
A buckling-arm robot from Kuka with dual gripper picks up the ring gears from the Promot WS-FR accumulating conveyor and loads or unloads a gear cutting machine. Thanks to the dual gripper, a workpiece change time of ...
See the other products
Promot Automation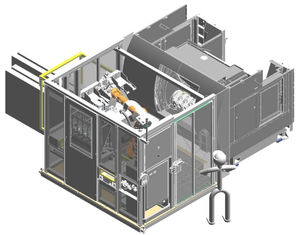 robotic loading cell
RZ 16
A horizontal machining centre is loaded/unloaded from the front side via a robot cell. The workpieces are transported via feeding and delivery conveyors. The whole cell is fitted with ...
See the other products
Promot Automation


robotic depalletizing cell
Empticon®
... containers and trailers as well as high cube containers, and the machine can with advantage form part of the following: Robot palletizing Sorter systems Miniload storage or other fully automated storage equipment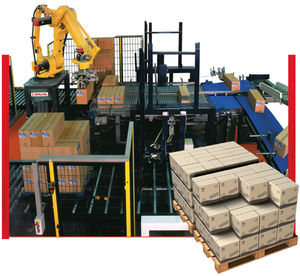 robotic palletizing cell
STP-1150
The Palletizing Cells STP-1250 is available in 3 models according to load requirements 100, 250 and 400 kg. There is a version designed for ice cream production lines or frozen food (-30 ° C). This machine has a Pallet ...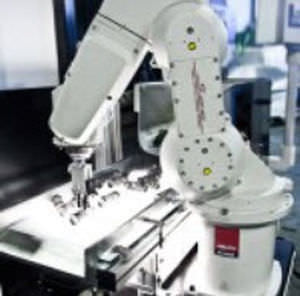 robotic loading cell
BRB 700
Kamatech's BRB 700 Systems are part of the company's product line of robotic island devices. These systems feature primary robotic arms that are guided by camera deals with the disc's loading stage. ...

... equipment on the bench for a zero time equipment change owing to the CNC bench. - Manual or automatic load also from line or robot. - Electric and pneumatic integrated circuit within the structure for easy handling. Applications - ...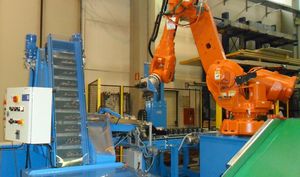 This lineup of robot inclined automated systems for installation are engineered and manufactured by CIA for production lines that have a rather low production rate, but where constant installation and superior versatility ...
See the other products
C.I.A. Automations and Robotics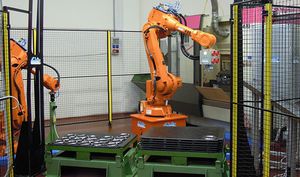 ... of components requiring processing, there are robot-based automated solutions available with the following variations: a robot manipulating the part with the tools being kept stationary, and with a ...
See the other products
C.I.A. Automations and Robotics

robotic dosing cell
DC-RS 250
The slimline DC-RS 250 robot dispensing cell with the KUKA KR6 R900 is small and versatile. It is used to process 2-component materials. 600 mm wide with a max. part width of 350 mm Ideal for lean manufacturing ...