How to choose this product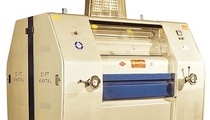 A roller mill uses a pair of parallel cylindrical rollers to pulverize material to a desired particle size.
Applications
Roller mills have replaced rotary millstones in the food industry. They are also common in pharmaceutical and mining applications.
Technologies
Roller mills comprise one or more pairs of parallel cylindrical rollers. These can turn at the same or at different speeds.
How to choose
Choice of roller mill will depend on desired output. This is determined by cylinder diameter and speed, as well as the position and dimensions of the grooves cut into each one. The ground product passes through a sieve to ensure proper particle size.