Rope clamps
How to choose this product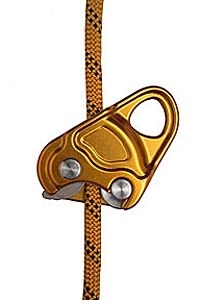 A rope clamp holds fast to a rope under all conditions. Its self-cleaning slot prevents slipping, even when the rope is muddy or frozen. The clamp allows the rope to be climbed in stages, with periodic stops.
Applications
Rope clamps are used in a variety of situations: climbing a static rope, helping someone in difficulty, rescuing a climber stuck in a crevasse or on a wall, etc.
Technologies
The rope clamp has a release device (usually a cam) which opens when the clamp is moved upward along the rope. When downward force is applied, the cam closes, wedging the clamp against the rope. The user can then ascend the rope.
How to choose
A rope clamp should be chosen as a function of intended use and the type of material (rope, cable, etc.) to be employed with it. It should meet applicable standards.
Advantages
- Security
- Ergonomic design
10
companies |
29
industrial products
CElock

TEUFELBERGER Ges.m.b.H.
For seasoned climbers, the most effective way to climb up a tree still is the footlock technique. For this purpose, TEUFELBERGER offers customers CElock, consisting of the highly static Globe 5000...
CONSTRICTOR

Cousin Trestec
Stronger : In comparison to standard clutches our Constrictor range multiply by two the holding strength. Moreover our solution does not limit us in strength; if necessary we can reach the rope breaking...
Filter by :
› New products

(0)

› Products with video

(1)
Refine the search
Rope clamps
Extend the search
Search by manufacturer
Search by catalog
Associated Terms
ascenders, rope vises, rope vices