How to choose this product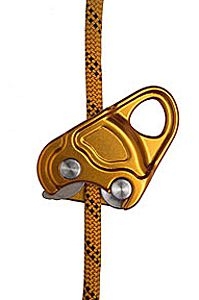 A rope clamp holds fast to a rope under all conditions. Its self-cleaning slot prevents slipping, even when the rope is muddy or frozen. The clamp allows the rope to be climbed in stages, with periodic stops.
Applications
Rope clamps are used in a variety of situations: climbing a static rope, helping someone in difficulty, rescuing a climber stuck in a crevasse or on a wall, etc.
Technologies
The rope clamp has a release device (usually a cam) which opens when the clamp is moved upward along the rope. When downward force is applied, the cam closes, wedging the clamp against the rope. The user can then ascend the rope.
How to choose
A rope clamp should be chosen as a function of intended use and the type of material (rope, cable, etc.) to be employed with it. It should meet applicable standards.
Advantages
- Security
- Ergonomic design