How to choose this product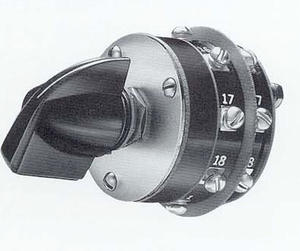 A rotary switch is a manual control with multiple positions. It can turn on, direct and turn off electric current. Its internal mechanical arrangement and wiring configuration determine the complexity of its functional combinations.
Applications
These switches are used as function or range selectors on a variety of devices, such as a multimeter. They are used as emergency on-off switches in industry. In addition, they are found on machines and different installations to select among several operational modes. Another use is to shift between star and delta connections, as in changing the speed of a Dahlander motor.
Technologies
Switch position determines which of several circuits is closed. There may be several input poles, each with the same number of outputs. For example, the abbreviation 2P6T indicates a two-pole, six-throw (contact) switch. The number of possible poles is increased in a multi-deck switch by stacking several rotary elements in layers on a central shaft. The permanent contacts generally will not cause a short circuit. Nylon cams are used to ensure mechanical stability on modern rotary switches. They are sturdy and able to withstand harsh environments.
How to choose
Choice will depend on contact configuration, current and voltage capabilities.
Advantages
- Reliable connection
- Multiple wiring possibilities
Disadvantages
- Subject to mechanical wear