How to choose this product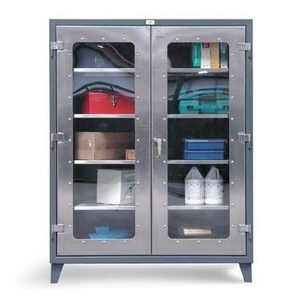 Security cabinets provide storage for dangerous products, isolating them to guaranty the safety of personnel and the environment in case of accident. Some are designed to protect important corporate documents from theft and fire.
Applications
These cabinets are common in workshops, industrial facilities and in any building where flammable or dangerous products must be stored. Those holding important paper or digital documents can be found in many businesses.
Technologies
Fireproof models hold flammable products and gas cylinders. Some have drip trays for storage of drums containing toxic, corrosive or polluting liquids. Such cabinets must be certified for use and feature standardized pictograms. Access may be restricted by a keyed lock or padlock. Ventilation is natural or forced air. The floor is often galvanized grating, which can be designed for transport by pallet jack or forklift.

Fireproof cabinets protect against theft, break-in and flames, permitting a rapid return to normal operation after an accident or disaster. Those for laboratory animals have ventilation and temperature controls. Models holding pharmaceutical products have sliding trays. Multi-hazard cabinets offer protection from a variety of threats.