How to choose this product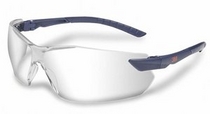 Safety glasses fall into the category of individual protection equipment. They are designed to protect against risks of blinding, UV rays, flying particles, liquids or chemicals.
Applications
Safety glasses have numerous applications, including in medical, chemical, industrial and other settings. Models vary according to the dangers present.
Technologies
Safety glasses usually have lenses made of shock-resistant plastic to protect the eyes against flying debris and liquid splashes. Standards for such glasses indicate a minimum lens thickness, regardless of their composition. They also can be treated to resist scratches and be anti-reflective.
How to choose
Safety glasses vary in the level of protection offered, depending on intended use. It is essential to choose a model carrying the logo of a recognized certification agency: ANSI (American National Standards Institute), CSA (Canadian Standards Association), CEN (Centre européen des normes), BSI (British Standards Institution) or SA (Standards Australia).
Advantages
- Eye protection