How to choose this product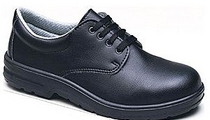 Safety shoes are designed to protect the feet against electrical, fire, chemical, mechanical and other hazards.
Applications
These shoes are used by firefighters and in the construction, food, metallurgical, electrical and lumber industries, among others.
Technologies
Safety shoe technology differs with materials and fabrication: cotton, PVC, leather, rubber, lightweight, flexible, etc.
How to choose
Choice of safety shoe will depend on the hazards to be encountered. They should be comfortable and comply with applicable standards and regulations.
Advantages
- Foot protection
- Comfort