How to choose this product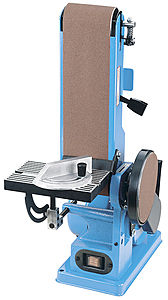 Sanders abrade a surface, i.e., modify its roughness by rubbing it with an abrasive.
Applications
Sanders are used in the final steps of parts manufacturing. Materials that can be sanded include wood, metal, plastic and composites.
Technologies
Different technologies exist for sanders. One can differentiate handheld sanders (manual tools) from the stationary sanders found in workshops. They differ in movement type (eccentric, vibrating, orbital, belt sanders) and in abrasive system type (belt, disc, plate sander, etc.). Sanders are generally mechanical, though there are also pneumatic models.
How to choose
Sander choice depends on its intended use. One must consider whether the sander will be a stationary, bench model, or a portable, handheld tool. Stationary sanders can be manual or automatic (CNC). Finally, the size of the surface to be sanded will be a determining factor.