How to choose this product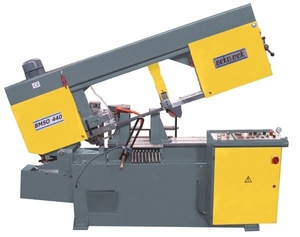 A saw used in industry is a type of machine tool that cuts following a pattern. The blade is motorized and operated manually or automatically, guided from a control panel or via digital instructions.
Applications
Industrial uses include cutting metal pipe, wood panels, marble and other materials.
Technologies
The rotational speed of a circular saw's toothed cutting disc is variable, depending on the material to be cut and the blade thickness. It is mounted on a pivot, enabling it to make angled cuts, and is lubricated and cooled as it turns. A vice or clamp firmly holds the material to be cut.

The cutting element of a band saw is a rotating closed steel loop with teeth along one edge. It is used in woodworking for edging, cross-cutting and cutting panels to finished size. It is also employed for sawing plastics and non-ferrous metals. Its ability to make deep cuts, to scribe and contour distinguish it from other saws.

A panel saw is a kind of circular saw used to cut wood panels. It can be either horizontal or vertical. Frame saws are used to cut marble, a series of parallel blades slicing the stone blocks into sheets.
How to choose
Choice depends on the nature and dimensions of the material to be cut. Saws are differentiated by their overall configuration, table characteristics, guide mechanism, blade type, blade attachment and drive system, control panel and safety elements.