How to choose this product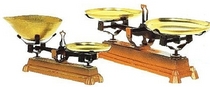 Scales are used to determine the weight or mass of objects. Each of the various scale configurations presented on DirectIndustry serves a specific industrial purpose.
Applications
Scales are used in industrial applications where the control and measurement of an object's weight is necessary. Depending on the application, scales come with various functionalities that enable the user to perform weight measurements for all types of objects.
Technologies
Scales use different measuring techniques in order to accurately measure weight or mass. These include balance scales, spring scales, strain gauge scales, quartz scales and hydraulic scales.
How to choose
Important parameters to take into account when selecting a scale are its resolution and maximum and minimum weight range. There are also scales with different functionalities designed to ameliorate weighing procedures.