How to choose this product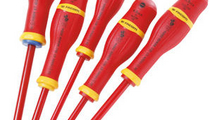 A screwdriver is used to tighten and loosen screws. The different types are distinguished primarily by their head shape, flat, Phillips or other. Power versions are commonly called screw guns.
Applications
These devices are used in mechanical engineering and other domains for assembling structures and machinery.
Technologies
The screwdriver's tip shape corresponds to a particular screw head type. Most are flat or Phillips head, the latter in the form of a cross. Other types include the BTR for hexagonal socket screws, star-shaped Torx models, square socket and Allen versions. Some have interchangeable heads for use with different screw types.

Overall configuration varies. A short, thick-handled model is used to apply extra torque. A precision driver has a collar or ferrule for simultaneous support and rotation. An electrician's model has a small bulb which lights when the tip touches a live element. Others are electrically insulated.

A ratchet screwdriver does not need to be removed from the screw for repeated turning, and is usually reversible. Torque control models are used to tighten screws to a preset degree. Electric drivers, some cordless, permit repetitive work without fatigue. Some power models are pneumatic.