How to choose this product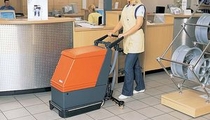 The scrubber-dryer is an industrial machine used to wash and dry large floor areas in a single pass. This allows the space to be used immediately or to be cleaned while in use.
Technologies
The scrubber-dryer applies a precise amount of liquid detergent beneath the front of the machine. Rotary brushes scrub the surface and the dirty liquid is sucked up at the rear of the machine and stored in a holding tank. The powerful aspiration leaves the floor nearly dry. With its two reservoirs and additional equipment, the machine can become heavy and difficult to maneuver. Small models are pushed by the operator, while larger ones have a drive motor. In the largest units, the operator rides on the machine.
How to choose
Performance capability, expressed in square meters per hour, will determine choice of model. Battery-operated units have more spatial flexibility, but their use is limited by battery charge duration and recharge time. Plug-in units have no time constraints, but the cord can hamper maneuvering. Programmed cleaning time and the size and layout of the area to be cleaned will determine choice of power source.
Advantages
- Rapid operation
- Hygienic
- Washes and dries simultaneously
Disadvantages
- Expensive