How to choose this product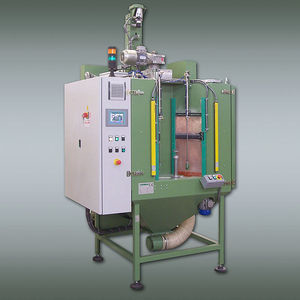 A shot blasting machine is used in a closed circuit for the surface treatment of cast or forged metal products. It projects tiny abrasive particles of different shapes at high speed against a metal product to clean or confer particular characteristics to its surface.
Applications
These machines are used primarily in metallurgy to strip and deburr fabricated metal products.
Technologies
The essential element of a the machine is its particle projection system. The most common type is a turbine using centrifugal force to project a stream of tiny abrasive particles entering at the center of the turbine. The blasting chamber is closed, with a particle recovery system. Machines differ in the method used to introduce products to be treated (hook, conveyor, rotary table, etc.)
How to choose
Choice of shot blasting machine will depend on the size and shape of the products to be treated, and whether operation will be continuous or batch. If only one side of an object is to be treated, a conveyor belt feed can be used. However, if multiple sides require treatment, a hook suspension system is more appropriate.
Advantages
- Inexpensive
- Easy operation
- Allows batch treatment
Disadvantages
- Unsuitable for fragile products