How to choose this product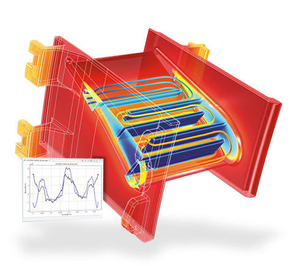 Simulation software is a computer program designed to predict outcomes for planned projects. These range from the behavior of an object to that of any organized system, regardless of domain.
Applications
Such software is used in engineering and design studies in various industrial sectors to optimize planning and to verify the suitability of specifications in advance of project launch.
Technologies
Three-dimensional mechanical engineering programs can represent a part to be fabricated and predict its behavior as a function of the forces it must withstand or its satisfactory integration into an ensemble.

Some versions simulate the operations of machine tools. The envisaged part can be compared to a CAD model to verify the accuracy of the production process. Others program production line robots. Computational fluid dynamics (CFD) software simulates the behavior of a part subject to a liquid or gaseous flow. Plastic injection molding versions ensure that the mold will actually produce the desired part.

There is also software specialized in the calculation of thermal exchanges for the construction of energy-efficient buildings or the design of heating and cooling systems. Simulation programs are also used in electronics and electrical design, and the simulation of electromagnetic fields.