How to choose this product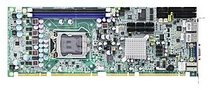 A single-board computer (SBC) is a printed circuit containing an entire computer: clock, CPU, RAM and flash memory, Ethernet, inputs and outputs (I/O) and any other feature necessary for a functional computer. Unlike a typical computer, an SBC does not necessarily have expansion slots. It can use nearly any microprocessor and either discrete or programmable logic. It needs only a power source to work.
Applications
SBCs offer all the required inputs and outputs without the need for expansion slots. They are much smaller than ATX motherboards found in PCs and feature a range of inputs/outputs better adapted to industrial applications: digital and analog I/O, bootable flash memory (eliminating the need for a hard drive), no video, etc. Their industrial uses include process control or, combined with other devices, for internal controller and interface tasks.
Technologies
SBCs fall into two main categories: with or without expansion slots.