How to choose this product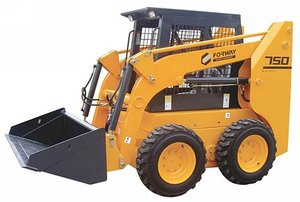 The skid-steer loader is compact and versatile. Its bucket can be replaced by a wide variety of tools powered by the loader's hydraulic system. Four-wheel-drive versions are the most common, though it also can run on tracks.
Technologies
Skid-steer loaders have four drive wheels. As with tracked vehicles, steering is accomplished by operating the right and left side wheels independently or at different speeds. This allows the loader to turn in its own length. The hydraulic arms holding the bucket are attached at the rear and pass alongside the cab. Some move in a simple arc, while multi-articulated arms give greater range, flexibility and safety when dumping.
How to choose
Wheeled skid-steer loaders are more common than tracked models, offering greater speed but less traction. Other factors include size (service weight) and power of the machine.
Advantages
- Compact
- Nimble
- Versatile (bucket, other tools)