How to choose this product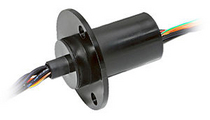 A slip ring maintains the electrical connection between a stationary part (stator) and a rotating part (rotor), allowing for continuous current for multiple rotations where a simple cable connection would not function.
Applications
Slip rings are commonly found in electric motors, generators, wind turbines, torque sensors and other machines or devices with rotating electronics. Electrical slip rings are used wherever electrical current is transmitted from a stationary to a rotating part.
Technologies
Current moves between the slip ring rotor and stator via a slide contact which is pressed against the rotating slip ring by a constant-pressure spring. Mercury slip rings use the conductivity of mercury to maintain constant contact with the rotating shaft.
How to choose
Slip rings are made in various sizes and are usually custom-made. Be sure to specify the required inside and outside diameters, as well as the type of current being transferred.