How to choose this product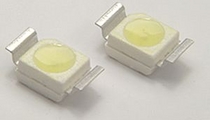 The SMD (surface mounted device) LED is a small electroluminescent diode created by deposition. Miniaturization saves significant space and allows grouping several LEDs in the same housing.
Applications
The SMD LED is used for the same purposes as traditional versions, differing only in size. It is often found in lighting.
Technologies
The SMD LED is more powerful than the classic, bulb LED.
Advantages
- Powerful and durable
- Low power consumption
- Less heat-sensitive
- Light quality
Disadvantages
- Price
- Increased heat production