surveying software
Survey Pro
Spectra Precision® Survey Pro field software provides you with a complete set of capabilities for all your survey projects. It's fast, reliable and easy to use. Transfer data from Survey Pro to your laptop or PC and manage ...
See the other products
Spectra Precision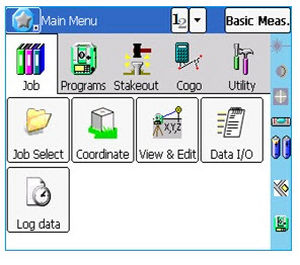 surveying software
Survey Basic
Survey Basic™ onboard software provides you with the simplicity and familiarity of the tradition Nikon button-based user interface, together with the benefits of a color touch screen. Users of traditional Nikon instruments ...
See the other products
Spectra Precision


software / supply chain management
... investment needed to install a warehouse management software (WMS)? Does it seem like your software applications are always a version behind? Frustrated with sloooooooow system performance? On-premise ...
See the other products
high jump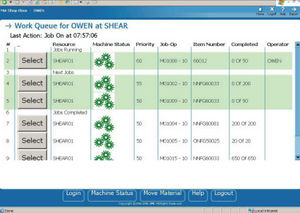 time-sheet management software
You want to devote all your time and attention to responding to customer demands for new and higher-quality products. But how do you find time to do your best for customers when its all you can do to manage rising costs of raw materials ...
See the other products
high jump

CAD/CAM software
Alphacam Router
Alphacam is the system of choice for the programming of CNC routers because of several reasons.Ease-to-use. Alphacams dedicated Router modules accommodate tooling and machining techniques. Aggregate Support Certain machine parts like ...
See the other products
Vero International

CAD/CAM software
Alphacam Milling
The Alphacam milling by Vero International is a CAD/CAM software designed for 2 to 5 axis milling operations. Each of its software comes with a geometry creation commands like arc, circle, rectangle, ...
See the other products
Vero International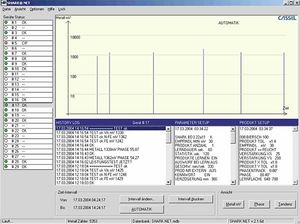 monitoring software
Windows XP/Vista , 1 GHz, 1 GB RAM | SHARKNET®-2
The SHARKNET®-2 is a software network manufactured by Cassel. This program can be used for documentation of operational data for metal detectors, checkweighers and x-rays with one Windows computer. The application collects ...

imaging software
RaySafe S1
... and demonstrating best practices in dose management, they also have to reduce costs. RaySafe S1 is a patient dose tracking software that helps healthcare institutions lower patient dose, improve process quality and increase ...

SCADA Operating Software Whether communicating with Modbus, Modbus-TCP, IEC60870-5, DNP3.0 or any other specific protocols, TBox solutions are completely open to all supervisory software on the market, ...

network management and configuration software
Z-CONFIG-M
Z-Config Sniffer for ZB-Connection Networks Non-invasive ZB-Connection network analysis Works with specifi c Usb device Detections of weaknesses in the network infrastructure

One of the main advantages of Reliance's Controls Packages is its ability to generate reports and integrate with existing plant systems. When information is fed from your Plants Manufacturing Systems into your Offices Business's Information ...

HMI software
VisBee IDE, HMI, SCADA
Bee open for HMI - design With VisBee, the user-friendly Visualization system - you are able to build impressive, custom HMI and SCADA applications according to the wishes of your customers. Develop high-performance applications from ...

modeling software
tiberCAD
Tiberlab's tiberCAD is a software application generally utilized for numerical simulation in the electronic and optoelectronic device industry. The system enables modelling and designing of nanostructured devices, like ...
See the other products
tiberlab s.r.l.

The DD by tiberlab s.r.l. is a 3D simulation software designed for the simulation of light emitting devices, bipolar transistors, MOS transistors, HEMTs and nanostructured devices. The software is used ...
See the other products
tiberlab s.r.l.

The Movicon 11 Scada /HMI by Progea is especially and specifically used to provide a good quality performance incorporated with a reliable and superior functionality under a single unit. The Movicon 11 guarantees a non-stop production ...
See the other products
Progea USA

monitoring software
Movicon NExT
... technology revolutionizes the concepts of supervision and control. The most modern and advanced software technologies have been integrated into one unique software to offer a new supervision system and ...
See the other products
Progea USA

Tekla Structures, Full is an all-inclusive configuration containing functionality for all design-to-construction disciplines. Users can create 3D models of both steel and concrete structures, generate output data used during fabrication ...
See the other products
TEKLA France

Tekla Structures for Construction Management contributes to construction contractors who need to model, plan and manage projects, regardless of material or type. Contractors can analyse the construction project model to optimise the ...
See the other products
TEKLA France

design software
EPLAN Harness proD
The EPLAN Harness pro D is designed in a modern 3D software system for the effective design and documentation of cable harnesses. The efficiency of the system lies in the automated procedures involved, from transporting ...
See the other products
EPLAN Software & Service


electrical schematics software
EPLAN Electric P8
... subsequent phases of the project such as production, assembly, commissioning and service. The device also comes with CAE software embedded interfaces which can be used to exchange data with other projects.
See the other products
EPLAN Software & Service

data management software
AS-60
Comprehensive Software for Environmental Noise Measurement AS-60 allows you to graphically display measurement data, perform calculation processing and excluded sounds processing, create reports, output files, and play real sounds.

software / vibration analysis
Physical Acoustics Corporation provides the most powerful, comprehensive and efficient software for acoustic emission testing, analysis and applications. The PAC software product line covers all the AE ...

... develops new on-line software technologies for implementing acoustic emission, vibration and other sensor-based instrumentation for remote customer applications. Based on customer needs and available connection capabilities, ...

data transfer software
Nor1020
Nor1020 NorXfer Transfer software for reading-in and converting measurement results stored in instrument memory to Excel- or text-files via USB, RS-232 or parallel interfaces (cables not included). Results may be shown ...

software / vibration analysis
Nor1038
NorVibraTest Nor1038 A powerful tool for post processing and creation of measurement reports based on captured raw data. The program handles up to 6 measured vibration channels and one noise channel. The program requires that the Nor133 ...

monitoring software
PLC Express Gold
The PLC Express Gold is a real-time monitoring and control framework developed by Rel-Tek Corporation. It is a stand-alone software with compatibility to Windows operating systems. The unit is supplied with real-time ...

measurement software
Coda
... is a turnkey software platform that can be used for data acquisition, signal analysis and process monitoring. It reduces time for testing and also saves costs. It also has a smaller learning curve as it is very easy ...

software / surface deformation modeling
MOLD for SolidWorks provides an extensive set of data preparation tool to prepare the product model for the mold design. With just a few clicks of the mouse, designers can reorient the part by rotating/translating the part into the molding ...
See the other products
Manusoft Technologies

project management software
Project Control provides tools to create new IMOLD projects and edit existing projects. When starting a new project, you can choose to work in either Millimeters or Inches, define a unique project code and specify the plastic resin and ...
See the other products
Manusoft Technologies

software / production management
Cut Rite
HOLZMA's worldwide leading optimisation software Cut Rite is a powerful, user-friendly program for cut optimisation of sheet materials. It optimises material wastage and – depending on the version – the overall cutting ...

human-machine interface software
CADmatic machine controller
CADmatic is our proprietary machine control software. With CADmatic, HOLZMA has come out with an easy-to-understand control software that allows even inexperienced employees to become familiar with it ...