The Online Industrial Exhibition

bending software
HACOBEND 3D
Hacobend 3D is an extensive offline production preparation package that has been developed for the preparation and processing of 3D products for press brakes. Your first produced part will be correct from the start! General features: - ...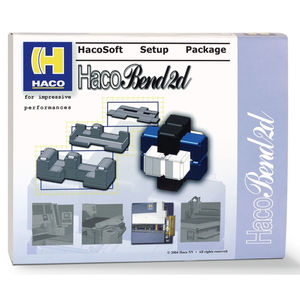 bending software
HACOBEND 2D
... This allows Haco to offer the speed and advantages, without the need of additional training on the software. Some features: - Windows based software. - Parametrical drawing of 2D profiles. - ...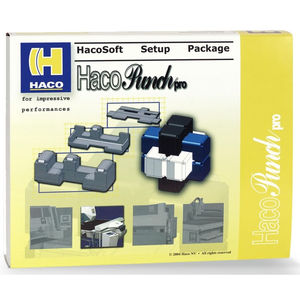 management software
HACO PUNCH
HACOSoft focusses on designing sheet metal nesting software, a key enhancement for punch, plasma, laser and bending machines, and coordinating the functionality between parts and nestings to improve your production time. The ...

The perfect solution for monitoring and traceability of your welding activities. Product Advantages ✔ Unique identification number of each weld bead up to 4 billion ✔ Welding fault tracker due to control process system ✔ Statistics ...

energy management software
VADEV
The energy data management system VADEV® serves for automatic meter standing recording of current, gas, water and heat meters of various manufacturers. Different system networks can be recorded: Radio system Bus systems (LONWORKSTM, ...

energy management software
COUNTVISION
Energy management software Count Vision is the solution for industrial, branch companies and all those who must have their consumption under control. It serves to reveal energy saving potential and systematically implement. ...

energy management software
COUNTVISION CLOUD
CountVision Cloud allows you to run CountVision without the need for additional IT infrastructure and adapt the scope of the software to your requirements at any time. Operation is via a web browser. Safety: Your data ...

visualization software
TestWork
TestWork is FuelCon's ergonomic software for automated operation and the visualization of complex battery or fuel cell test stations and assembly systems of our Evaluator product line. TestWork stands for: - Intuitive ...

programming software
EasyGrind

safety software
Traffic Vision II
Developed by Digicon to monitor and manage traffic control equipment in real time. Traffic Vision II, used in conjunction with the Digicon Traffic Controllers, provides a complete solution to optimize the flow of vehicles and organize ...

Operator: It does not require daily operator intervention. Operators have instant access to traffic flow information, system status and faults to the level of a single lamp. Scats® adapts to the demands of traffic flow evolution. Traffic ...

data acquisition software
991 series
Features - ​​​​​​​​​​​​​​​​​​​​​​​​​​​​​​​​​​​​Proportional valve parameter set-up: factory-set or customised - Generate steps and create ramps - Scope function: view set-point, outlet pressure, internal signals from the PID control

monitoring software
Korenix NMS
Korenix NMS - Network Management Software Manage from central or remote office Auto network discovery, topology map, failure positioning Batch firmware upgrade, configuration backup/restoration Event handling ...

data acquisition software
SR272
The SR272 Boxcar System software provides simplified data acquisition for the SR250 Gated Integrator and the SR255 Fast Sampler modules. With the SR245 Computer Interface module, it provides a complete pulsed data acquisition ...

monitoring software
ConneXt Pro
... compliance status of each gas detector ConneXt Pro combines a permanent wireless infrastructure with portable gas detectors and software to give you a real-time view of gas readings, gas alarms, man-down status, your ...

visualization software
GDVS
A software and hardware solution to enable 24/7 remote access of your gas detection Real-Time information, GDVS provides unique flexibility and possibilities of customisation. With GDVS you can visualise the gas detection ...

Remote Services from AMADA MIYACHI EUROPE are a complete hardware, software and support package for remote access designed for diagnostics, technical service, programming and data logging. The MIYACHI PECO Active Welding ...

management software
SafeControl
Full SDL connectivity SafeControl links all SafeStore Auto solutions to give a complete overview of rental status and performance across all branches. Centralised customer database SafeControl provides banks with one single, non-redundant ...

Flowrox Malibu™ platform is a customized user interface tailor-made for your process. It is a combined online process monitoring, maintenance and analysis tool. Flowrox Malibu™ makes your products Smart!

diagnostic software
Pro-FX™
Releasing our most sophisticated commissioning, diagnostic and programming toolset for quick incorporation of device capabilities using the electrical management method.

All Barco Alchemy projectors come with the 'Barco Commander' software that runs from a touch panel controller or PC. Barco Commander in a nutshell Integrated projector and media control Flexible screen management Easy ...

Barco's X2O platform is a powerful solution to improve communication channels. Including intuitive tools for content generation and distribution, the HTML5-based platform offers a way to bring relevant information to the different stakeholders ...

management software
FPA-Xplorer
Software FPA-Xplorer is designed with a wide variety of functions intended for creation as well as archiving of the welding process data for use with FPA 2020 and FPA 2030 system controllers. It enables visualizing, analyzing ...

management software
ExtremeXOS
ExtremeXOS was designed from the ground up to meet the needs of large cloud and private data centers, service providers, intelligent, converged enterprise edge networks, and everything in between. It provides the high performance and ...

management software
AppFormix
AppFormix is a new breed of optimization and management software platform for the cloud. With AppFormix, you can track and automate the operations of your applications and software-defined infrastructure. ...
See the other products
Juniper Networks

Sky Advanced Threat Prevention (ATP) uses real-time information from the cloud to arm your business with anti-malware protection. It defends against sophisticated cybercrime such as advanced persistent threats and ransomware. Today's ...
See the other products
Juniper Networks

development software
RC+ 5.0
The project management and development environment runs under the current Windows versions and communicates with the RC180 controller via USB and Ethernet. The open structure also includes an option for integration into external programming ...

process control software
Litronic MPS
... of overview beyond the whole operation. A two monitor is provided so that user will come up with real time solution. The software is a modular system with an upgradable standard industrial components. Plus, a language ...