The Online Industrial Exhibition
{{#pushedProductsPlacement4.length}} {{#each pushedProductsPlacement4}}

{{#if company.requestButtonsVisibility.requestButtonQuestion == "ACTIVE"}}
{{elseif company.requestButtonsVisibility.requestButtonWhereToBuy == "ACTIVE"}}
{{/if}}
{{product.productLabel}}
{{product.model}}
{{#each product.specData:i}} {{name}}: {{value}} {{#i!=(product.specData.length-1)}}
{{/end}} {{/each}}
{{{product.idpText}}}
{{#if product.newProduct}} {{/if}} {{#if product.hasVideo}} {{/if}}
{{/each}} {{/pushedProductsPlacement4.length}}
{{#pushedProductsPlacement5.length}} {{#each pushedProductsPlacement5}}

{{#if company.requestButtonsVisibility.requestButtonQuestion == "ACTIVE"}}
{{elseif company.requestButtonsVisibility.requestButtonWhereToBuy == "ACTIVE"}}
{{/if}}
{{product.productLabel}}
{{product.model}}
{{#each product.specData:i}} {{name}}: {{value}} {{#i!=(product.specData.length-1)}}
{{/end}} {{/each}}
{{{product.idpText}}}
{{#if product.newProduct}} {{/if}} {{#if product.hasVideo}} {{/if}}
{{/each}} {{/pushedProductsPlacement5.length}}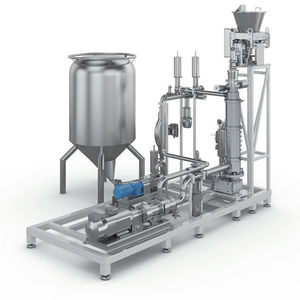 powder dosing dispenser
zoatec® CPU
... processes. Description Continuous mixing and dispersing of low viscosity to pasty liquids with a variable amount of dry solid. Premix of raw materials is not necessary. Fine powders, granules as well as (coated) pellets ...

powder dosing unit
DosiBox®
DosiBox®, DOSINENTER® and DosiLogistic® Economic solutions for frequently changing small quantities Clean storage Stock control Safe product and user protection Raw material handling in a closed system Just in time production Permanent ...

powder dosing unit
DFS NE
... conveying and metering of bulk materials in conveying lines and scales etc. These units can be used for almost all kinds of bulk materials in the food, plastics, chemical and pharmaceutical industry. How ...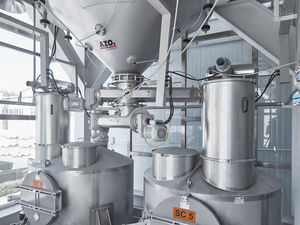 powder dosing unit
DFS DE
... conveying and metering of bulk materials in conveying lines and scales etc. These units can be used for almost all kinds of bulk materials in the food, plastics, chemical and pharmaceutical industry. How ...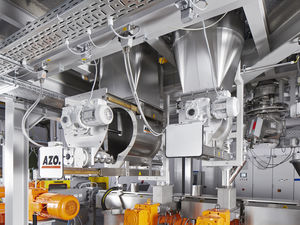 powder dosing unit
AZODOS® P Series
... loss-in-weight feeder DDW. How it works AZODOS® type P … DV The AZODOS® Type P … DV operates in volumetric mode. The powder bulk products flow out of the surge bin into the dosing screw. An agitator is used to ensure ...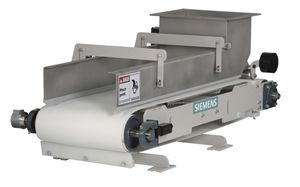 solids dispenser
SITRANS WW100
Developed by Siemens, Milltronics weighfeeders are designed to improve the accuracy of blend consistencies, processing, record keeping and accountability. This lineup of weighfeeders ship with a speed sensor and a belt weight bridge, ...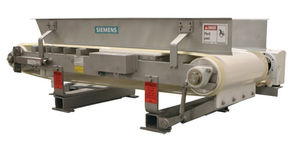 powder dosing dispenser
SITRANS WW200
The SITRANS WW200 is a state of the art product manufactured by SIEMENS. It was designed to be used with chemicals and powders as well as any granular product because of the Mild steel design it was given. It also comes in SD or the sanitary ...

solids dispenser
SITRANS WW300
The SITRANS WW300 is a weighfeeder designed to accommodate between medium to high macro ingredient additives load. The device is developed for use in heavy duty industries like mining, cement, chemical processing, pulp and paper, and ...

solids dispenser
SITRANS WW310
The SITRANS WW310 series, manufactured by Siemens®, is a weight feeder utilized for macro ingredient additives that is ideal for mining, cement, chemical processing, and the like. It has been tested and demonstrated to fit in hundreds ...

powder dispensing system
DDS
The Dilution and Dosage System, manufactured by Anton Paar, incorporates a system that allows automatic dilution as well as the routine preparation at accurate weight to weight or weight to volume ratios. The mechanism does not employ ...

solids dispenser
70 - 1 800 m³/h | HFxx51, HFxx71 series
... belt sizes. It is capable of handling varying capacities from 50 to 4,000MTPH of soft or hard rock material and of various bulk densities and sizes. The rugged design and strength of the feeders allows them to be installed ...

solids dispenser
70 - 1 050 m³/h | HFxx22 series
... capacity range (59-4000 MTPH), in addition to bulk densities and different material sizes. The wide capacity range is easily adjustable, very reliable and silent when in use. HF-series units also have low dust ...

solids dispenser
150 - 2 000 m³/h | HFxx14 series
The HF-series movable belt feeders are created to handle bulk materials. Designed and develop by SANDVIK. These big equipment can be applied where accurate feeding is a requirement. It can process capacities for up to ...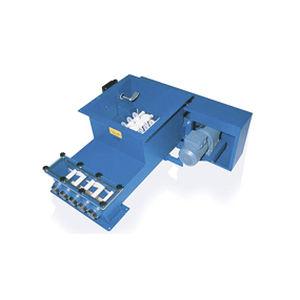 solids dispenser
Multiscrew Feeders
The Tomal multiscrew feeders are designed for use as metering units in arch-forming and granular materials. When installed into weighing systems, these are specially optimized for gravimetric feeding of substrates and materials with varying ...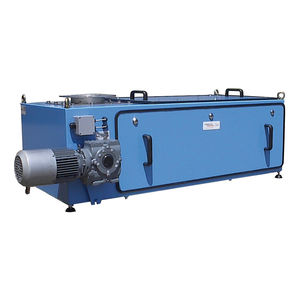 continuous dosing dispenser
MD
The MD mini weigh belt feeder performs bulk product continuous dosing operations. This dosing infrastructure ensures simultaneously the extraction and the weighing of all gravity rolling products. The MD has been especially ...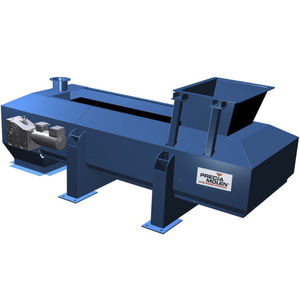 granulates dosing dispenser
WBF
The weighbelt feeder of type WBF ensures continuous bulk product closing, while the infrastructure has been designed to facilitate joint extraction, along with the weighing of any gravity flowing product, which is made ...

powder dosing dispenser
LIW
... STAINLESS STEEL Mounted under hoppers, silos, with an outlet butterfly valve, this structure is suitable for extracting, dosing BULK granular or powdery products. Throughput: from 10 dm3/h to 10 m3/h as per model Achievable ...

granulates dosing dispenser
XKV, XKP
The Volumetric belt extractor XKV has a feed structure with a device allowing adjustment to the height of material layer, and a sensor for detecting material. These are extended by product edge guide strips, any potential risk of the ...

volumetric dosing dispenser
SPECTROFLEX V
Volumetric screw dosing unit with flexible PU hopper for non-free flowing materials SPECTROFLEX V is ideally suited for dosing powders, pellets, regrind, granulates, flakes and fibers in continuous processes. motan's ...

granulates dosing dispenser
C-FLEX
C-FLEX is ideally suited for dosing powders, pellets, granulates, regrinds, fibers, and flakes in both continuous and batching processes. motan's unique removable exchange system provides two huge advantages over traditional dosing and ...

granulates dosing dispenser
Each chamber must be filled equally before it is emptied. Any excess grains on the feed roller are scraped off. At a constant speed, it is possible to achieve extremely accurate doses.

granulates dosing dispenser
... station has a cellular wheel made of V 2 A (highest-quality stainless steel). It is completely sealed to the outside to prevent dust from escaping, and in the centre is an agitator to homogenize the additives. It is ...

gravimetric dosing dispenser
GRAVIKO series
The patented GRAVIKO series makes it easy to dose and weigh, monitor, correct and analyse - in one cycle. As a rule, by combining slide opening times with chamber volume dosing, it is possible to achieve dosing accuracy of ± 4 grains ...

liquids dosing dispenser
GRAVIKO GK series
It is optionally possible to have the Graviko fitted with a differential dosing system, also known as a loss-in-weight control system, and adapted to any extruder. The loss-in-weight control system records the weight of the material ...

A supporting plate with the same bulk density below it, irrespective of how much or how little powder is in the storage container, with a paddle and a scraper ensure accurate dosing.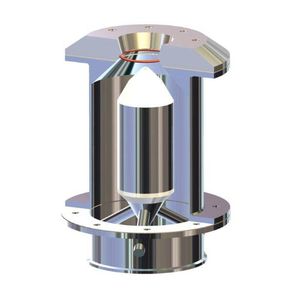 granulates dosing unit
DosiValve
Dec Group - DosiValve is a simple and cost effective solution for the dosing of powders and granules. t uses unique PTS – Powder Transfer System for longer distances in a safe and contained manner. It accommodates a hygienic design and ...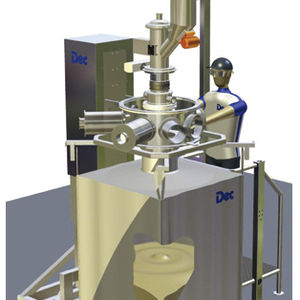 powder dosing dispenser
PTS Feeder
... without pressure, filling both large and small receptacles. Combining speed with precision, a two speed system transfers the bulk of the powder rapidly. The discharge of the Feeder is effected by vibration and accurate ...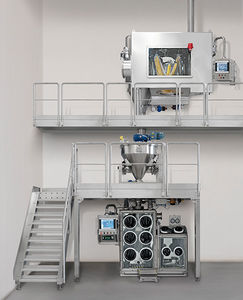 powder dispensing system
Dispensing Systems
Dec's Dispensing Systems cover a wide range of requirements, from a simple single chamber to multi-purpose dispensing and pack off systems for sterile toxic production. These accurate, safe systems handle multiple ...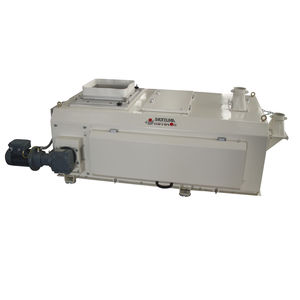 granulates dosing dispenser
MD series
The belt weigh feeder extracts a product from a storage hopper through the constant cross-section and according to a fixed reference flow-rate (set point), adjusts the extracted volume by varying the belt speed in such a way as to keep ...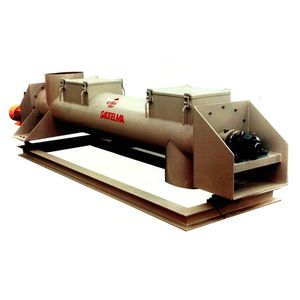 granulates dosing dispenser
DVP
The weighed screw feeder works on double regulation principle. The first regulation induces variation in rotary valve speed in order to keep constant the product weight in the screw. The second regulation induces variation of the screw ...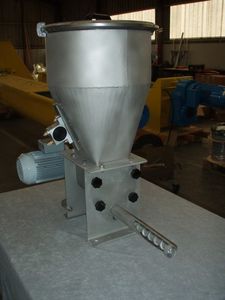 granulates dosing dispenser
The volumetric screw or vibrating tray feeder extracts the product from a hopper with more or less regular flow rate which depend of the material flowability. The flow set is generally set by a potentiometer. The volumetric screw or ...

... equipment also offers the possibility to regulate the dosing, either way, on demand or automatically Applications - Dosing of solid products in a completely sealed module, without releasing dust. - Flow meter ...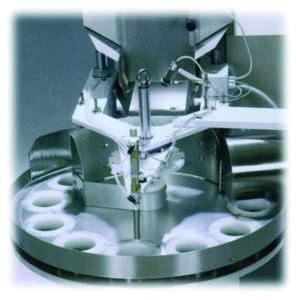 Cup type dosing filler Cup type dosing fillers enable you to measure granular products to volume, they can be mounted on all vertical bagging machine models and are supplied in two sets: 6 cups and 12 cups. Both are fitted with a supply ...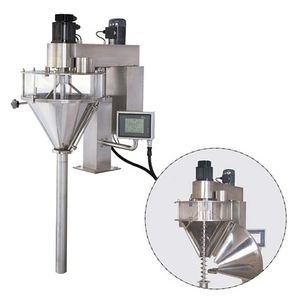 ... possible to measure to volume fine grades of powder-based products which can sometimes pose problems with regard to compaction, dust level and variable density. The various problems associated with processing products ...

Deduster machine is specially suitable for pharmaceutical tablets. The machine with eight-adjustable column offers easy installation and can be directly fit to the tablet machine delivery chute. The sussultatory vibration along 4-meters ...

This feeder system are engineered with a discharge, a feeder and a weighing functionality. All depending on the operator's needs. These units may further be customized. Moreover, inquiries may be made through contacting ATA Engineering.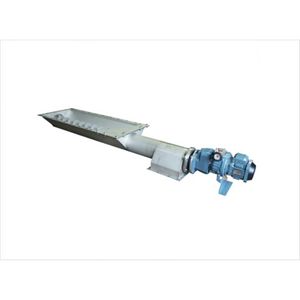 Apart from batching hoppers, GIMAT offers screw extractors, screw batchers and volumetric batchers that are ideal for continued dosing or batching. The volumetric batching is very precisely done. Variable-speed motors with manual or electrical ...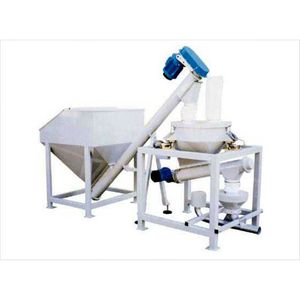 GIMAT uses the methods of batching or continuous dosing, and will produce screw extractors, gravimetric batchers and screw batchers. The machine ensures batching by weight precision. The RPM can also be adjusted using continuous hydrostatic ...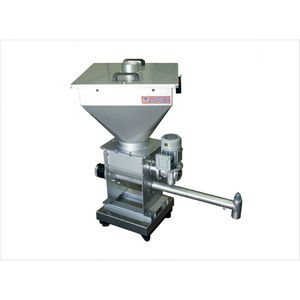 Spiral micro batcher with continuous gravimetric batching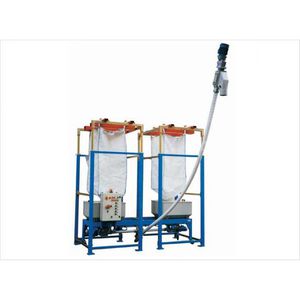 Batching system with two components with supplementary storage by means of bulk bags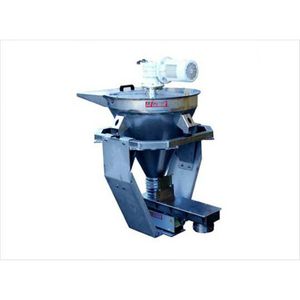 Storage system in hopper with vertical agitator and batching with closed vibrating channel to avoid dispersion of powder into the environment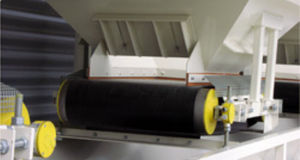 We supply belt feeders in several sizes and designs according to specific project. Designed for volumetric dosing or for dosing aggregates to a weigh belt. The belt feeder is assembled on a U-frame equipped with a drive pulley. It can ...

powder dosing unit
GDC85 series
Series GDC85 volumetric auger filler dosers are the ideal solution for dosing a wide variety of non flowing powdered products such as various kinds of flour, powdered milk, cocoa, icing sugar, baby food, ground spices, fine ground coffee, ...

granulates dosing unit
GDV60 series
Model GDV60 volumetric cups doser is the ideal solution for dosing a wide range of granular flowing products such as rice, salt, dried legumes, sugar, granular spices, seeds, etc.It is equipped with a lung-hopper, levelling brushes and ...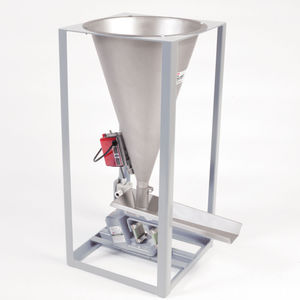 solids dispenser
FM, FMT series
... electromagnetic vibrator, feeder, structure and controller. Features and advantages: Stable and smooth operation. Water and dust protection. Easy and instant regulation through a potentiometer. Instant start ...

Manufactured by TORO, solid state dispensing systems otherwise known as automatic nutrient preparation plants are specially designed for procedures requiring the incorporation of nutrients to the biological ...

The lime measurement plant permits to understand the dosing lime for the molding of muck undertaking from the waste water treatment.

granulates dosing dispenser
DPM 35
This volumetric metering unit is particularly suitable to dose all kinds of powders and plastic materials with restricted flow ability. The unit is equipped with a stainless steel hopper with a mixing paddle and an external micro-vibrator ...

powder dosing dispenser
DG15 series
APPLICATION ·Extrusion MATERIALS ·Powder ·Ground material ADVANTAGES ·Accurate and reliable metering unaffected by material variations and features ·Absence of periodical sampling operations OPERATION This dosage unit ...

powder dosing dispenser
DG 1 SP series
This dosage unit features a gravimetric feed hopper equipped with a load cell. All weight variations of the material inside the hopper are sensed by the load cell and transmitted, in real time, to the control electronics, enabling accurate ...

powder dosing dispenser
TRIO P series
This gravimetric dosage system can be installed directly on the processing machine instead of the feed hopper or on the ground, enabling feeding of one or several processing machines. The TRIO dosage system is the typical single-scale ...

granulates dosing dispenser
The TRIO-M feeding system developed by ENGIN PLAST for the extrusion sector, allows the simultaneous feeding of several lines with different types of mixes, by using one single centralized gravimetric dosage station, able to control ...