The Online Industrial Exhibition

With Mogensen MSort opto-electronic sorting systems and Mogensen X-ray sorting systems, it is possible to remove foreign bodies from materials which were previously not able to be sorted. Features MSort separates products ...

pusher sorter
max. 75 p/min
The Primo Sort High Speed Sorter was designed in response to an increasing demand for high speed distribution equipment. Up to 75 sorts per minute (based on size of product) can be economically and accurately sorted with the Primo.
See the other products
roach conveyor

laser sorting machine
max. 600p/min | DV-GPSM
This gives the system extreme versatility, as it is possible to control a large variety of items without the need for retooling the system. DV-GPSM machines allow to carry out checks for defects and surface finishing, chip presence ...
See the other products
Delta Visione

automatic sorting system
LXN POWERSORT Series
Automatic sorting and separating system for laser cutting machines Simple separation of parts, zero flashback and machining of extremely thin materials. The new DALLAN LXN laser system fitted with the Powersort automatic sorting and ...

package sorting system
DV04
Sorting systems products (aligners or deviators), specially designed for the formation of multiple files to feed the packers, ensuring a high speed.


automatic sorting machine
SUNY-CIE011
Throughput: 1,000 p/h
Custom Automatic sorting equipment, sorting machine Our factory can custom all the industria equipment.We are professional manufacturer in the electronics manufacturing field. We can custom all the machines for the ...

... cycle. The horizontal crossbelt sorter is also perfectly suited for small spaces. For example, two crossbelt sorters with identical routes can be installed one on top of the other, i.e., doubled up. Horizontal ...
See the other products
Interroll

automatic sorting machine
MSB
MOBILE SORTING BUFFER FOR AUTOMATIC AND MANUAL LOADING OF GLASS SHEETS The mobile sorting buffer (MSB) is an integral part of in-house logistics solutions and can be used in a highly flexible manner. Depending on the selected design, ...

automatic sorting system
Rosk
Sesamo Rosk is the Web Software allowing managing and monitoring all the automatic Rosk warehouses designed for the tracing of the disposal and differentiated collection The multi-company programme, allows managing more Rosk also ...

In thescope of a large greenfield investment project for manufacturing of engineeredlaminated timber products in northern Russia, LEDINEK designed and built anautomated high volume sorting line for grading and sorting of boards intendedfor ...
See the other products
Ledinek

PARAMETERS Inner Diameter ØD1 Outer Diameter ØD2 Height H1, H2 & H3 Dowel pin height H4 at 3-Places Parallelism FEATURES Auto gauging cycle Auto gauging Auto sorting Optimum cycle time User friendly ...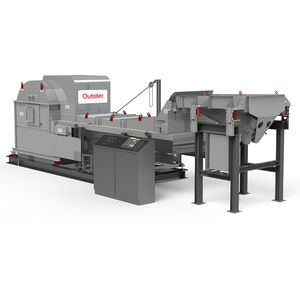 Increase productivity and significantly reduce energy and water consumption by removing waste from the ore feed in your crushing and grinding circuit. Outotec sensor-based ore sorting, powered by TOMRA technology, will help you rise up ...

automatic sorting system
SortMaster® Compact
Throughput: 1,100 p/h
SortMaster Compact is an automated sorting system and the ideal complement to the MTF quality control of mobile phone lenses. In combination with the ImageMaster® PRO, OptiSpheric® IOL PRO 2 and WaveMaster PRO, the SortMaster ...
See the other products
TRIOPTICS