How to choose this product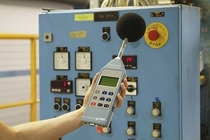 A sound-level, or decibel meter measures the intensity of a sound. This acoustic pressure is expressed in decibels.
Applications
These devices are generally used to measure noise pollution, environmental noise levels and the acoustic characteristics of industrial environments. For example, they measure the noise of vehicles, sirens, ambient workshop noise and the sound level of alarms.
Technologies
These instruments consist of a housing containing the electronics, with a display screen on its face and a microphone on the top. The microphone detects acoustic pressure and transforms its variations into an electrical signal.

Results are displayed in decibels (dB) with an indication of the weighting according to the international CEI 61672 norm:
- Time weighting of slow or fast (S or F)
- Frequency weighting of dB A, dB C or dB Z

Class 1 meters offer a precision of 1.5 dB, while Class 2 instruments are accurate to between 1.5 and 3 dB.
How to choose
Choice will depend on whether the general level of noise to be measured is low or high, the instrument's detection capabilities, weighting type and, especially Class 1 or 2 precision.