The Online Industrial Exhibition

reference thermometer
TL1-R
Temperature: -40 °F - 400 °F
... memory for later reference. The TL1-R is constructed with a robust aluminum case and stainless steel temperature probe. Different from most electronic thermometers, the "Cordless" ...

Temperature: -40 °F - 400 °F
... experience manufacturing digital thermometers, ThermoProbe has designed the TP7-D with reliable RTD sensors based on our previous industry-standard thermometers such as the TP7-C and TP9. Based on ...

Temperature: -40 °F - 400 °F
... hours of operation. The TP9-A rugged instrument body is constructed from stainless steel and static-dissipative plastic components. The TP9-A ergonomic probe storage and stainless ...

probe thermometer
THERMOCONT T
Temperature: -50 °C - 600 °C
... accordance to EN 60751 Single or dual sensor versions 2- or 4-wire types Fast response sensor version Stainless steel probes Max. 3m probe length Vibration-resistant version ...

Temperature: -40 °C - 500 °C
Bimetal thermometers manufactured entirely in stainless steel. Instruments designed for heavy duty use, suitable for the food, chemical, pharmaceutical and dairy industries and wherever ...

gas expansion thermometer
Temperature: -40 °C - 500 °C
... instruments, built to guaranteed standards with little or no maintenance requirements. Our inert gas thermometers meet all these requirements. Our industrial thermometers are characterised by their reliability ...

probe thermometer
THIP63A0120
Thermomètres (temperature gauges) ND 63 Threaded 1/4'' BSPP horizontal or vertical

bimetallic thermometer
MR-BT
Temperature: 0 °C - 250 °C
with bayonet body, bimetallic-coil for metering, class 1 (DIN 16203) Standard design with G 1/2" connection, stem length l1=100 mm and stem diameter 8 mm, normal version type BT with connection on the bottom, on request type BTR with ...

infrared thermometer
HI98509
Temperature: -50 °C - 150 °C
... 65 water resistant protection The Checktemp® 1 Digital Thermometer - HI98509 is a high-accuracy thermometer with a 1 m (3.3') flexible, silicone cable connecting the meter and the stainless ...
See the other products
Hanna Instruments

bimetallic thermometer
63 - 100 mm, -20 °C ... +160 °C
Temperature: -20 °C - 160 °C
These temperature measuring instruments and temperature controllers are manufactured using state of the art techniques and backed up by years of research and development. They are robust, accurate and reliable. Both the temperature ...
See the other products
AFRISO-EURO-INDEX

bimetallic thermometer
GB series
Temperature: -50 °C - 500 °C
... With rigid or every angle stem Nominal Diameter options of 100 mm and 150 mm Degree of Protection IP55/IP65 Stainless steel enclosure as standard Ranges available from -50...+50 to 0...500 ...

... bi-metal thermometers merge the advantages of cost-effective dependability for locally mounted temperature indication necessities in dual scale ranges from -50° to +1,000°F. The unit has a completely welded abrasion and ...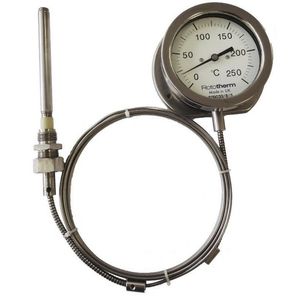 gas expansion with capillary thermometer
NC
Temperature: -30 °C - 650 °C
... °C. Non Toxic filling. Available with rigid stem. Back or bottom entry versions. All stainless steel construction. Stainless steel case (316 option). ...
See the other products
British Rototherm Co. Ltd

bimetallic thermometer
B10
Temperature: -30 °C - 600 °C
Service intended: These rugged thermometers are well suited for machine and apparatus engineering, pressure vessels and piping. Case Ø 100 and 160 mm, stainless steel Protection class IP ...
See the other products
Manfred Jünemann Mess- und Regeltechnik GmbH

Temperature: -200 °C - 800 °C
STIKO offers rigid-stem gas-filled stainless steel thermometers. With bottom or back connection for direct mounting with a minimum span of 60°C and ranges anywhere between -200°C and ...
See the other products
STIKO

Temperature: 0 °C - 160 °C
A range of heavy duty, high accuracy, direct mount industrial dial gauge thermometers.

probe thermometer
ThermaLite
Temperature: -40 °C - 150 °C
... Thermalite® thermometer is housed in a high impact ABS plastic case which includes the Biomaster additive that reduces bacterial growth and are ideal for routine day-to-day food and catering applications. The Ø3.3 ...
See the other products
Electronic Temperature Instruments Ltd

bimetallic thermometer
100 series
Temperature: -100 °F - 1,000 °F
... industrial bimetal thermometers manufactured by Noshok. It is suitable for use in limited spaces, and applications requiring resistance to weather. The series comes with a tamper-proof case. The thermometer ...
See the other products
NOSHOK

bimetallic thermometer
A series
We supply a precision range of bimetallic thermometers. Ideal for industrial applications they are available with EN13190 or ASME B40.200 compliance. Bimetallic thermometers use a bimetallic strip in ...
See the other products
H&b Sensors

bimetallic thermometer
AA575R, AA475R
Temperature: 500 °F
3", 4", and 5" Adjustable Angle Industrial Thermometers: Heavy Duty design, with versatile case and stem that can be adjusted to almost any angle for easy viewing. Preferred by the process, offshore, power, pharmaceutical, ...
See the other products
Tel-Tru Manufacturing

pocket thermometer
Elcometer 212 series
Temperature: -50 °C - 300 °C
The Elcometer 212 is a digital, pocket size thermometer ideal for day to day use. Incorporating a fast response stainless steel liquid or surface probe, the Elcometer 212 provides ...

bimetallic thermometer
T48A-025-DS-01-A-8-SF
Temperature: -70 °C - 70 °C
... moisture damage to the inside components in 50% over and under range protection. It is featured with an all welded 304 stainless steel construction standard; 316 process connection and stem, including ...

bimetallic thermometer
TM-50-120C
Temperature: 0 °C - 120 °C
... 9001 Certified, OEM Available Stainless Steel Thermometer (Thermowell) Temperature Gauge Size: 2" (50mm) Temperature range: 32 to 250F / 0-120C Material of case: Stainless ...

Temperature: -50 °C - 300 °C
... Range: * -50/300 ºC * -58/572 ºF Accuracy: * 1 ºC/ºF Resolution: * 0.1 ºC/ºF Memory of maximum and minimum Stainless steel probe 150 mm, fixed

bimetallic thermometer
TBM6000, TBM6001
Temperature: 0 °C - 120 °C
Body material Stainless steel Bulb length 100 Connection Male BSP 1/2" Scale 0/+120

probe thermometer
MaxiTemp 2
Temperature: -5 °C - 45 °C
The OxyGuard MaxiTemp 2 is a small electronic thermometer specially designed to meet the demands of fish farmers and other professional people for a rugged, reliable and accurate thermometer with data ...

Types Bimetallic Gas filled Case materials Varnished carbon steel Stainless steel Ends materials Brass Stainless steel Connections Screwed ...