The Online Industrial Exhibition

We provide the supreme quality Hydraulic Pillar Type Press. The product we manufacture is made up of the high grade raw materials and is so designed so as to provide accurate extra force. This machine is used for many ...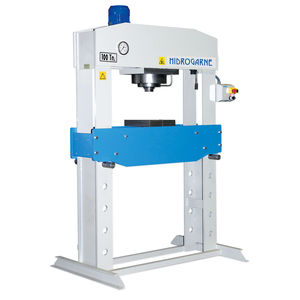 Opening: 250 mm
Force: 797.1, 996.4, 1,494.6, 1,992.8 kN
Specifically designed to perform work involving extraction, threading, straightening, etc. S-series hydraulic presses consist of an electro welded structure of 4 stanchions with open sides. These models feature ...
See the other products
HIDROGARNE

Opening: 3 in
Force: 49 kN - 343.2 kN
*HP-15A Shown in Image For pressing, bending and straightening operations Easy-to-use, hand-operated with pressure gauge for direct pressure readings Tables raise and lower easily with use of hand crank ...
See the other products
WMH Tool Group

hydraulic press
E-HWP 600-30
... assembly work, straightening of axles, girders, shafts, pressing and unloading ofbearings, bolts and bushes, crimping and crushing, stress tests and welding tests» Stable welded construction» Robust frame with perforation ...

Force: 1 kN - 78.5 kN
... guidance, product data administration and modem for remote diagnostics Large lateral windows in press frame facilitate automation Capacities: Nominal press force from 1.0 MN (100 t) to 80 MN (8,000 ...

Force: 10 kN - 15,000 kN
... entire range of straightening technologies from round, flat, to profile materials. Regardless of whether this involves straightening of simple round parts, or complex profiles that also need to be torsion ...
See the other products
DUNKES

hydraulic press
77/340 series
Force: 294.2 kN - 3,922.7 kN
These are the main machines used for all kinds of straightening, squeezing, pounding and roller extractioning operations in plants like workshops. As Glomac CO,with AP Series we can manufacture machines with pressing ...
See the other products
glomac

The presses have a modular design. Therefore STENHØJ LP-presses can be individually adapted to specific requirements of our customers and this flexibility is available right from the lower priced simpler presses up to complex high tech ...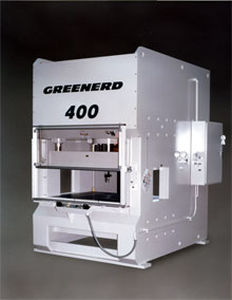 Force: 637.4 kN - 98,066.5 kN
... Hydraulic system featuring cartridge valves and a block manifold for low maintenance. PLC press control is flexible and safe. PLC controls allow for customized press cycles. Dual Palm Button control: ...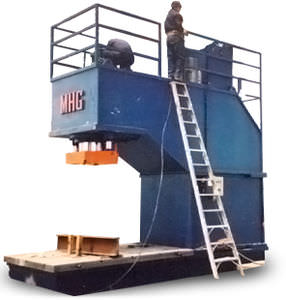 Force: 6,864.7 kN
Large bed area machines with high tonnages for straightening and flanging boiler plate and forming concave bottoms of vessels and spheres. With travelling or fixed ram and moving bolster options
See the other products
MHG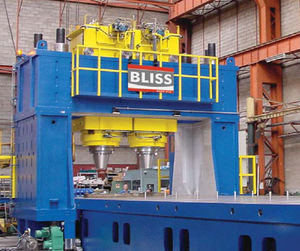 Bliss Bret's straightening press can either be a C-frame or Gantry-style press, and is primarily employed for straightening medium or thick sheets, sections, tubes, or ...

... presswork. However, the price of these presses is higher. If a high accuracy straight-side press could be purchased at a reasonable price, it would greatly expand the press's work range and reduce costs ...

hydraulic press
PMM series
Opening: 800, 700 mm
Movable stanchion with HYDRAULIC displacement. Movable cylinder with HYDRAULIC displacement. Straightening special press for sheet of different thickness and sizes. Full of important optional: hanging ...
See the other products
SICMI SRL

manual press
KP2.1 series
The standard toggle press of the Press & Tool Concept is ideal for punching, bending, assembly, stamping, pressing, riveting, straightening, gluing. Easy handling End position with high ...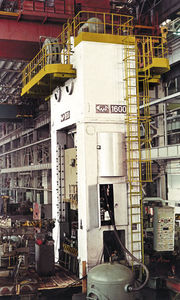 hydraulic press
K04.109.042
Opening: 1,030 mm
Intended for hot sizing and straightening of large forgings with an extended axle in a one- or two-position sizing block. The press slide contains power hydraulic cylinders permitting the slide ...
See the other products
JSC "Tjazhmekhpress"

Opening: 1,050 mm
Force: 294.2 kN - 2,451.7 kN
WORKSHOP PRESS These machines exist in all workshops in industry. They are used for: -pressing -bending -punching -extracting -straightening Workshop presses are the main machines for these actions. ...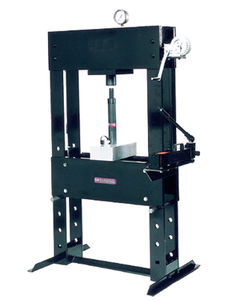 hydraulic press
UP series
The UP series is manufactured by Euro Press Pack, and is a hydraulic straight-side press that is constructed in steel, which is manufactured on request. It can be customized in accordance with the specific ...

This type of press has been especially developed for the production of expanded metal. Special attention is paid through customized solutions to addressing the requirements on an expanded metal press ...

Force: 147.1 kN
Description: 15 ton Hydraulic Press- Manual Type Welded steel with fast return springs Designed for use with automotive, industrial, and general shop work for pressing, bending, straightening, and assembling ...
See the other products
Zinko Hydraulic Jack

... bending and straightening of rails without tool changes and without returning the rails during the operations. Product Welded butt-joint rails. Operation Bending and straightening of rails prior installing ...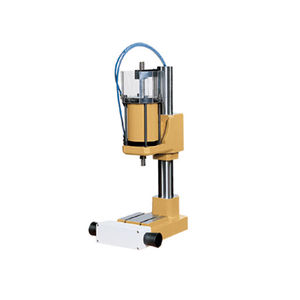 Opening: 155 mm - 435 mm
Force: 0.5 kN - 14.7 kN
... manual, pneumatic or hydropneumatic control in a range of sizes suitable for riveting, trimming, drawing, keying, sizing, straightening, bending, die-cutting. Suitable whenever adjustable thrust and accurate stroke control ...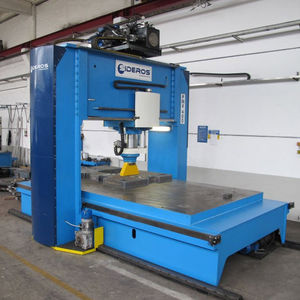 Force: 200 tf - 500 tf
... an extremely sturdy frame, the hydraulic press with movable vertical rod and cylinder, PME range, guarantees excellent reliability even on very heavy work shifts. This machine is suitable for the straightening ...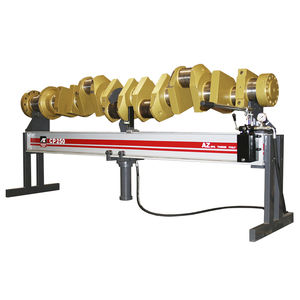 straightening press
CP150-250
Force: 80 kN
Straightening pressTable length 1900-2800 [mm]Max distance between support 1600-2500 [mm]Height of spindle axis from table 215 [mm]Max journal diameter 110-150 [mm]Max force 8000 [mm]

Workshop Type Hydraulic Presses HD160 Ton Hydraulic Press Turalı Workshop type presses can be produced according to customer's requirement as well as standard size. Such presses can be produced up to 1000 tons capacity, ...