Operating pressure: 138 bar
... series, which is manufactured by Sferaco, is a y-type strainer made of steel, and is suitable to use in any common liquids in the second group. The strainer is integrated with a detachable filter ...
See the other products
SFERACO

Operating pressure: 138 bar
... with descendant fluid as well as a mesh measuring 8/10° mm. This 800 lbs type product comes with a removable stainless steel filter with draining cap. The product can be used in common fluids of the 2nd group. The minimum ...
See the other products
SFERACO

Operating pressure: 16 bar
The 206 Series is a series of Y-strainer manufactured by Sferaco. Equipped with a removable stainless steel filter and a female threaded BSP, it has the ability to deliver a maximum pressure of 16 bars ...
See the other products
SFERACO

Operating pressure: 16, 10 bar
The device is a removable female-type stainless filter. It has a horizontal or vertical position which makes the downward fluid flow in respect to the flow direction pointed out by the arrow up to DN1 and 5/10° mm or ...
See the other products
SFERACO

Operating pressure: 10, 16 bar
The 202 Series is a series of bronze Y-shaped strainer manufactured by Sferaco. Equipped with a removable stainless steel filter and a drainer threaded female BSP with butterfly aluminium handle, it has ...
See the other products
SFERACO

The FG Inox 316 stainless steel industrial quality female Y strainers are available in following sizes: DN 15, 20, 25, 32, 40 and 50, with the outside diameter of 1/2'', 3/4'', 1'', 1''1/4, 1''1/2 and 2", maille/pas diameter ...

liquid filter
AZUD LUXON LPF
Filtration size: 1000 µm - 2000 µm
... 60 ºC (140 ºF). LARGE SCREEN AREA. RESISTANT MATERIAL: The screen is manufactured in high quality stainless steel. TIME SAVING: The filtration process and the flushing cycle occur ...

Hughes ½ inch Y Strainer is made of 316 stainless steel. It has BSP female thread. It is equipped with a 100 mesh filter screen. It is suitable for attaching into the interconnecting water feed pipe. Apart ...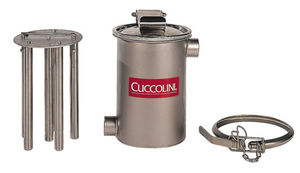 liquid filter
PZT 306 - PZP 200
Operating pressure: 0.5 bar
PZT 306/PZP 200/PZT 306 PLUS features an iron remover designed for liquid applications. It is integrated with fixed magnets that functions under pressure. This iron remover can also be utilized for glaze preparation departments separately ...

water filter
DLG 120-142-205-245-300-350-400
Flow rate: 1200 m³/h - 122400000 m³/h
Cuccolini presents iron-removing filter for fluids with electrical gravity. It can handle slurry, glaze and recovery water. The grids provide a very high contact surface. This along with the operating mechanism ensures ...

Filtration size: 63 µm - 250 µm
Flow rate: 600 l/min - 10000 l/min
The BSW Self Cleaning Gravity Strainer is a product used to remove fiber from water and get fresher water. Impure water can be filtered by feeding it into a tangential inlet connected to an outer ...

... Automatic self-cleaning liquid filter for shower water in the paper industry. It has the ability to eliminate hazardous long fibers in recycled water in an efficient manner. This efficient device integrates filter elements ...

air filter
HF series | Compressed air filter
Operating pressure: 50 bar
Flow rate: 450 m³/h - 5100 m³/h
Omega Air High Pressure FIlters or HF are used are used for commercial applications that works with pressure as high as 50 bar or 725 psi. It is made of a strong cast aluminum that makes it safe to open at high pressures. ...

Operating pressure: 64 bar
Flow rate: 30 m³/h - 720 m³/h
The AHP series provides an array of aluminum high pressure filters that generate a working pressure capacity of 64 bar and a volume flow rate that ranges from 30 to 720 Nm3/h. They come in connections that are sized 3/8 ...

compressed air filter
PF series | Process filter housing
Operating pressure: 16 bar
Flow rate: 21120 m³/h
... ⁽²⁾For oil removal, coalescing filter element must be installed and fl ow direction inside-out must be provided. General arrangement is filter head on top and filter bowl on bottom.

air filter
SPF series | stainless steel
Operating pressure: 12 bar - 16 bar
Flow rate: 75 m³/h - 3600 m³/h
... this filter may or may not be included in BSP or NPT pipe connections. The manufacturers assure that all products, including this filter, are tested to ensure quality. The SPF filters' ...

Filtration size: 5 µm - 1000 µm

Duct filtres are made of galvanized sheet connected with EU3 or EU5 class filtering mat. They are available in diameters range 80 to 500 mm as a fully round constructions or in square boxes as well as in rectangular ...

The PTFE lined blue type strainer is a lined valve manufactured by Youfumi. It has a pressure ranging between 150lb to 300lb in accordance with JIS DIN and a nominal diameter ranging between NPS 1 to NPS 10. In addition, ...

The PFA lined strainer is a high capacity pipeline fitting, which generates a production yield of 1,000 pcs/month. Its architecture comprises an integral base and an exchangeable filtering border. A screen ...

Operating pressure: 250, 140 Pa
Flow rate: 90 m³/h - 170 m³/h

water filter
100 µm | Prago
The Neptune PR is an automatic filter manufactured by Hectron. Featuring a filter clogging control and a filter screen backwash, it offers an operation that only requires ...

Filtration size: 0.25 mm - 1.6 mm
Operating pressure: 6 bar - 40 bar
... offers an array of strainers built using a stainless steel construction. These strainers are available in GSF and SZ variants. The GSF is a Y-type strainer that comprise screw and flange ...

Flow rate: 600, 150, 300, 450 m³/h
The Depur Vent range is designed to treat continuous flows from150 m3/h to 30m3/h. A large variety of contaminants such as sulphydric acid, mercaptans, volatile organic compounds (VOCs) and other annoying gasses can be treated with the ...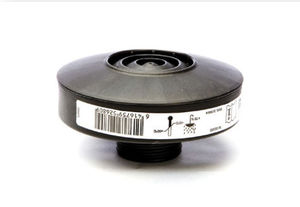 The PFR10 P3 Particle Filter has exceptionally low breathing resistance to provide comfortable and long duration use. The standard 40mm thread makes it suitable for use on the Proflow and Autoflow PAPR systems, the entire ...

steam filter
DN 10 - 80, PN 16, -10 °C ... +200 °C | 823
... Temperature range: -10+200°C compact settlement environment-friendly tests according to EN - 12266 - 1 screen made of stainless stell cleaning of screen without disassembling

Flow rate: 84 m³/h - 5220 m³/h


hydraulic filter
FIOA series
Filtration size: 30 µm - 250 µm
Operating pressure: 0 Pa - 2000 Pa
Flow rate: 5 l/min - 400 l/min

Filtration size: 25 µm - 250 µm



wastewater filter
SpiroSand
Flow rate: 20 m³/h - 125 m³/h
The SpiroSand is a simple and reliable piece of equipment that removes sand and heavy sediments as well as floating debris from sewage effluent before they are able to plug equipment or cause abrasive wear to downstream machinery. Benefits The ...

Filtration size: 5 µm
Flow rate: 16.5 l/s - 100 l/s
- To filter dust and other small particles from the vacuum flow. - Reduces the risk of operation breakdown or stoppage in the pump.