The Online Industrial Exhibition

Flow: 0.1 m³/h - 3.7 m³/h
Head: 1 m - 6 m
Power: 400 W
The Simer pump is a robust submersible utility pump for draining cellars, flat roofs, tennis courts or swimming pools. It can also be used to remove wastewater from building works such as core-hole drilling ...

Pressure: 1.4 bar - 2.8 bar
... working pressure systems with horizontal multistage centrifugal electric pumps APPLICATION: Automatic high pressure groups coupled with horizontal multistage centrifugal electric pumps. They are very ...
See the other products
Cadoppi

Flow: 50 m³/h - 3,000 m³/h
The pump is an all-round pump suitable for most fluids. The pump can be equipped with either mechanical seal or stuffing box. TECHNICAL DESCRIPTION Split case design permits easy disassembly ...

Flow: 0 m³/h - 189 m³/h
Head: 0 m - 15 m
Power: 3.5 ch
Diaphragm pumps are built for long-life and reliable service in many applications. Favored by municipalities and contractors for street repairs and other seepage applications. Ideal for muddy water, high solid content. ...
See the other products
Multiquip, Inc.

Flow: 0.1 m³/h - 110 m³/h
Head: 20 m
Power: 0.75 kW
These surface pumps use centrifugal technology and are useful for pumping and delivery of clean water. Production rate from 0.1 to 110 m3/h Features: Maximum vertical height between the point of pumping ...
See the other products
ELESSIA

wastewater pump
12BS, 20BS
Flow: 0 us gal/min - 35 us gal/min
Head: 0 m - 70 m
... Stationary cutter ring is reversible for extended service. Impeller: Silicon bronze, semi-open, non-overloading two-vane design with pump-out vanes for mechanical seal protection. Balanced for smooth operation. Casing: ...
See the other products
RED JACKET

chemical pump
70400, 70J00 series
... makes this gear joint pump ideal for applications where a longer maintenance interval is desired, when accessibility to the pump is limited or where downtime must be kept to a minimum. Also, because the ...

food product pump
25 mm | P200
Wilden P200 - 25 mm (1'') Advanced Metal Pump WETTED HOUSINGS (Liquid Chambers and Manifolds) Material Ship Wt Aluminum 11 kg (24 lbs) Ductile Iron 21 kg (47 lbs) 316 S.S. 23 kg (51 lbs) NON-WETTED HOUSINGS Description ...
See the other products
Wilden Pump

electric pump
2.8 - 3.6 m³/h | TPM, TGP, PS series
TPM series end suction peripheral pump PERFORMANCE RANGE:Flow rate up to 60 1/min(3.6 m3/h)Dynamic head up to 80 mOPERATING LIMITS:Suction lift up to 8mFluid temperature up to +60 ...
See the other products
Techtop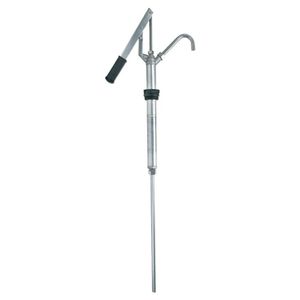 Flow: 24, 12 l/min
Single-acting or double-acting manually operated volumetric pumps constructed of carbon steel with aluminium components and Viton seals. Main applications: transferring, topping up of oil and antifreeze from the drums. Available ...

Pressure: 200 bar
Ideal tool to pierce shocks absorbers, to aspirate the oils inside and to make flow them into the tanks. Functioning completely oil-dynamic. Max pressure: 200bar.

Pressure: 0 mbar - 666 mbar
REF 14193 (without hotplate) REF 13907 (with integrated hotplate) Precise aspiration pump for follicular puncture Advantages of Aspirator 3: Approved medical device Easy handling by electrical pedal Long durability High ...

Head: 0 m - 53 m
Sludge pump easily handles water with 15% solids and particles up to 25mm in size. Suitable for seawater and certain corrosive chemicals. It operates on ejector principle so no motor of deaphram pump ...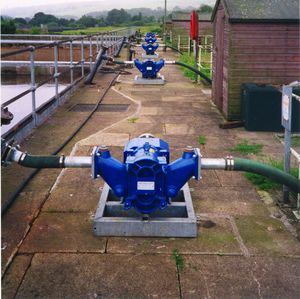 slurry pump
DK, VM, VG series
Flow: 450 l/min - 12,000 l/min
Pressure: 4 bar - 6 bar
Power: 11 kW - 22 kW
EISELE rotary pump can work as stationary or on the truck, it's self suction. Quick – acting clutch allows to use the pump differently, e.g. in long distance. Easy access to interior ...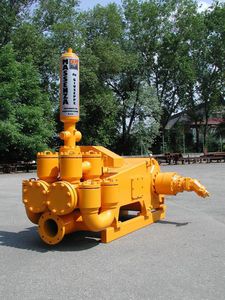 Flow: 2,240 l/min
Pressure: 20 bar
... auxiliary forced lubrication system by means of a geared pump, pulsation dampener, rod lubrication tank, mud suction pipework (diam. 8") with flexible hose i.d. 200 mm complete with rapid joint and suction ...