How to choose this product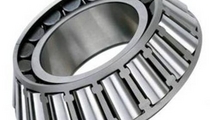 Tapered roller bearings can withstand heavy axial and radial loads. They are usually installed in pairs, the rollers of the two bearings in an O-shaped or X-shaped arrangement withe respect to each other. Different shapes, sizes and surface treatments are used for varying applications.
Applications
Common applications include use in car, truck and motorcycle wheels. They also are frequently found in heavy industry as guide elements in conveyors, heavy presses and even rolling mills.
Advantages
- High axial and radial loads