How to choose this product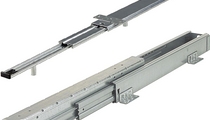 A telescopic slide extends to allow a drawer to be opened or to guide the movement of a heavy element not exceeding its load capacity.
Applications
These devices are part of drawer opening mechanisms. In general, they guide the horizontal or vertical movement of heavy elements. Such mechanisms are often used for the vertical movement of touchscreen panels. They are also used to protect machine tool mechanisms from shavings or liquids, and to ensure operator safety.
Technologies
These devices usually consist of three tracks made of stainless, electro-galvanized or anodized steel, or of aluminum. The nested rails slide within each another on ball bearing wheels or slider belts. Other models use recirculating ball bearing units or ball cages.

Runner extension is partial or complete. Those with two-way travel can be opened from either side. Set positions are stabilized by track configuration, which includes stops. Drawer opening can be facilitated by a reverse release mechanism and its closure can be cushioned. Vertical, or guillotine models have springs to counterbalance the load.
How to choose
Choice depends primarily on maximum slide extension, expressed as a percentage, and on maximum load capacity.