How to choose this product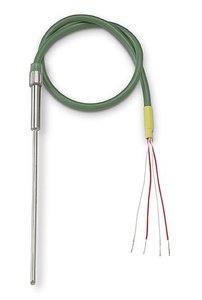 A temperature sensor enables temperature measurement by transforming the detected value into an electrical output signal. A device connected to the sensor calculates the temperature and displays the results, usually as degrees Celsius or degrees Fahrenheit (°C and °F).
These devices are found in every industrial domain for checking and controlling process conditions. They also are used in laboratories and in the field for meteorological measurements.
The most common sensing techniques are based on thermocouple, thermistor and resistance temperature detection (RTD) technology. However, the temperature of an object also can be measured via its infrared emissions.
Selection will depend on whether the material to be measured is a solid, a liquid or a gas, as well as the range of values and required degree of accuracy. Pressure, explosion risk and other factors of the operational environment may also influence choice of model.