Thermal flow rate sensors
26 companies | 48 products
How to choose this product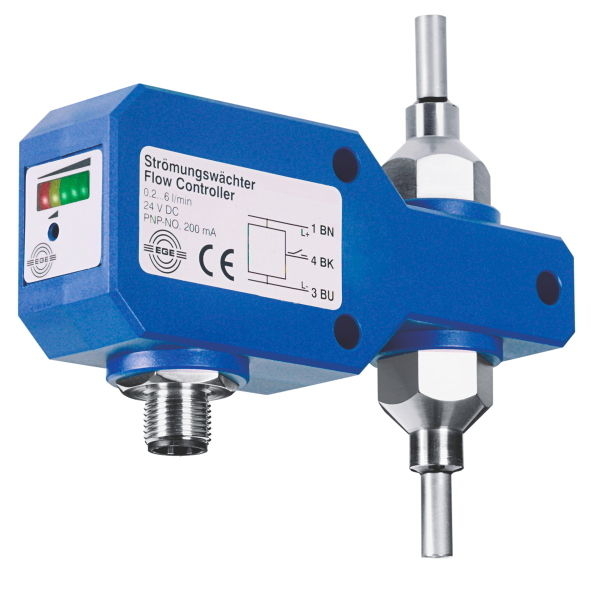 A thermal flow sensor uses a fluid's capacity to carry calories from a heating element to a sensing element to measure mass flow, which is proportional to the thermal transfer.
Applications
These devices monitor cooling and lubricating circuits and detect leaks and absence of fluid (for pump protection) in the beverage industry, metallurgy, the chemical and automobile industries, and in heating and air conditioning. Sensors are designed for particular fluids: water, oil, corrosive liquids or gases.
Technologies
Thermal sensors measure the flow of homogeneous liquids and gases with very little energy loss. They have no moving parts, making them sturdy and reliable. An in-line sensor resembles a conduit section, while a threaded insertion model uses a clamp or a compression connector. Sensors are calibrated for volume rather than mass. They are suitable for measuring the flow of fluids of known specific heat and density.

Gas flow is measured by a hot wire or hot film sensor. The former consists of a heating wire placed tangential to the flow, whose rate is calculated on the basis of its cooling effect on the wire. The latter has a heating surface oriented in the direction of the flow. Upstream and downstream heat sensors measure the temperature difference and, thus, the flow rate.
How to choose
Choice will depend on fluid type, mounting configuration, measurement accuracy and type of signal or available ports.
Advantages
- Low energy loss