How to choose this product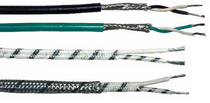 A thermocouple cable links the hot sensing solder point to the cold reference point at the temperature measuring instrument. It can be an extension or a compensation cable.
Applications
Thermocouple temperature measurement is precise and rapid, a good system for recording rapid temperature changes. These devices are sturdy, compact and easy to set up. They are used in research, aerospace, medicine and nuclear reactors.
Technologies
The Seebeck thermoelectric effect is observed at the junction of two different metals forming a thermoelectric couple. A generated voltage enables measurement of the temperature gradient between the hot sensing point and the cold reference point.

Extension cables made from the same materials as thermocouple wire do not bias the measurement. When the couple is made of precious metals, a compensation cable of a different, less-expensive material is used. These cables are designed to operate in a specific temperature range.

Cables are marked with two letters. The first indicates the type of thermocouple. The second, whether the materials are the same or different than those of the sensing junction. They are insulated and shielded with aluminum or woven copper or silver. The wire is copper or nickel- or tin-plated copper.
How to choose
Choice will depend on constituent materials as a function of the type of thermocouple.