How to choose this product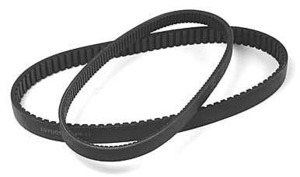 A flat belt is wider than it is thick and has a rectangular section. This provides a large contact surface. It is often very flexible, silent and able to transmit high speeds (60-100 meters/second) under low torque. It is also about 98% efficient, e.g., in gearing arrangements.
Applications
Flat belts are common in many power transmission applications.
How to choose
Choice criteria are the same as for belts in general:
- Torque to be transmitted
- Rotational speed of drive and driven shafts
- Shaft spread
- Available space
- Operational conditions (vibrations, surge, shocks, temperature, humidity, dirt, etc.)
Advantages
- Large contact surface
- Silent and very flexible
- High-speed operation
- Efficient
Disadvantages
- Limited torque capability