How to choose this product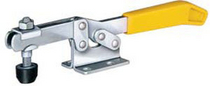 A toggle clamp is a manual lever clamp used to attach an object to a base. Its mechanism is sometimes called a knuckle joint.
Applications
These devices are used where clamp points are frequently opened and closed. Examples include machine and transport container covers, vehicle closures and the attachment of workpieces to machine tools.
Technologies
Such clamps use a variety of mechanisms. In those that apply pressure, the lever rod is either horizontal or vertical when the clamp is closed, the other rod applying force. The two are linked by an adjustable tip clamp. The lever is either pulled or pushed to close the clamp, depending on the version.

Other types use a stirrup clamp mechanism. Again, the lever may be vertical or horizontal in the closed position. A different type has a rod which slides in the plane of the clamp plate. Certain models have jaws instead of a clamp plate. Some operate via a pneumatic piston.

Most are made of zinc-plated steel or galvanized stainless steel to resist humidity and moisture. The handle has an oil- and chemical-proof plastic cover to facilitate manipulation.
How to choose
Choice will depend on lever position and the type and degree of force to be applied.