How to choose this product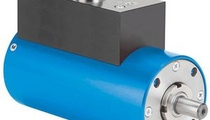 Torque sensors, also called torque transducers, convert the torque applied to a shaft into an electrical signal. They are to measure both reaction torque and rotary torque.
Applications
These sensors can be found in torque wrenches in order to control the torque applied while fastening bolts. Car manufacturers use them to measure torque of the engine, gearbox or axle. Torque sensors are available in many measuring ranges for both reaction (static) and rotary (dynamic) torque.
Technologies
Torque sensors are typically manufactured from heat treated steel and use different electronics depending on the type of torque being measured. Reaction torque sensors have a relatively simple design using a strain gauge mounted strategically on the shaft. As the shaft deforms under the applied torque, the resistance in the strain gauge either increases or decreases, causing a change in voltage.

Rotary torque sensors are a bit more complicated in their design since the rotating shaft needs a slip-ring or non-contact rotary transformer to transmit the strain-gauge signal from the rotating shaft to the static part.
How to choose
When selecting a torque sensor, be sure to determine the approximate maximum and minimum torque to be measured.