How to choose this product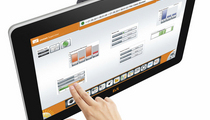 A touchscreen monitor incorporates the function of the pointing device into the display, replacing both mouse and keyboard. Interaction with the computer takes place via a system which detects contact with the screen surface.
Applications
These devices are used for the control of industrial machinery or production lines. They provide the operator a comprehensive view of the needed data and controls.
Technologies
Resistive screens are differentiated by the number of wires they have. The five-wire system compensates for their fragility, making them more durable and less prone to scratches and cracks.

Capacitive models respond to the transfer of electrical charges when touched, and cannot be used while wearing a glove. They are very bright, but have a fragile surface coating. Projected capacitive versions take advantage of the proximity transfer effect. Their surface is protected by reinforced glass.

Infrared technology uses light detection, the screen responding even before it is touched. However, it offers limited resolution and is prone to accidental activation. The most common type is the surface acoustic wave (SAW) screen. It responds to a wide variety of touch techniques, some screens even taking into account the amount of pressure applied. It is very bright and has excellent resolution.
How to choose
In addition to size and resolution, choice of touchscreen will depend on the conditions under which it will be used and the possible need for multi-touch capability.
Advantages
- Ergonomic ease