How to choose this product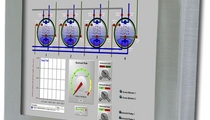 A touchscreen PC is a portable computer similar to a tablet PC, direct screen input replacing keyboard and mouse. It may have various ports and several buttons on the front controlling essential functions.
Applications
These devices are used in industry as human-machine interfaces and as operator terminals for monitoring automated installations. In medicine, they display radiologic images or physiological data. They also have military applications.
Technologies
The LCD touchscreen surface functions using resistive, capacitive infrared or surface wave technology. The five-wire resistive system is one of the sturdiest. Screens can be protected from scratching by addition of a glass sheet. They also can be made water- and chemical-proof.

All the common screen sizes are available. Some have no fan for silent operation, while others have a handle. Certain models come with a stylus for data entry and operation. Port options include, USB, Ethernet, WiFi, Bluetooth®, serial RS232, eSATA, DVI HDMI, IrDA infrarouge and RFID. They also can be equipped with speakers and a microphone.
How to choose
Choice will depend on screen size, processor, memory and system clock rate.
Advantages
- Ergonomic design