How to choose this product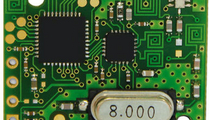 A transceiver is a data communications device operating via wire, radio or any other medium, including fiber optics or infrared rays.
Applications
These components are used to establish data-exchange channels. Wireless configurations ensure network continuity without the need for cabling.
Technologies
Transceivers take the form of integrated circuits, modules or ready-to-use components that can be linked to a communications interface.

Radio versions employ various available VHF or UHF bands to establish communications. They can have an internal or external antenna, or an antenna connector. There are both short-range WiFi and RLAN models, as well as those covering greater distances. Other versions are extensions for CAN-bus, Profibus or DeviceNet fieldbuses.

Certain types exchange data via electrical conductors, by RS232, RS485 or RS422 serial link, Ethernet or another protocol, some supporting several protocols. The connection can be half- or full duplex. Certain models are intended for mono- or multi-mode fiber optic systems. Others are designed for the remote control of machinery or electrical actuators. Ultrasonic transceivers are used for non-destructive control processes.