How to choose this product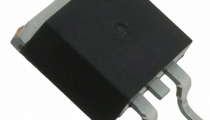 A transistor is a three-terminal semiconductor device used to switch or amplify electronic signals and power.
Applications
Bipolar technology is used in analog and power electronics, especially for current amplification and voltage regulation. MOFSET transistors work well in power and high-voltage switching, motor control and in switched mode power supplies.
Technologies
Bipolar and field-effect (FET) transistors work differently. The former is base-current controlled, while the latter is grid-voltage controlled. They differ in the nature of the voltage drop in the controlled circuit. Bipolar models have a minimal drop between semiconductor junctions. FETs have very low output resistance, on the order of several milliohms.

Bipolar transistors are n- or p-type, depending on control current direction at the base. N-channel FETs offer better performance than p-channel models with negative-source voltage control. There are other types of transistors: those used for radio frequency and high-frequency applications, high-gain Darlington transistors, IGBTs and JFETs.
How to choose
Choice will primarily depend on current and voltage specifications, frequency limits and packaging.