How to choose this product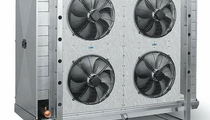 A unit cooler is one element of a refrigeration system. Placed in the enclosure to be chilled, its coolant evaporates as it absorbs heat from the ambient air.
Technologies
This cooler is a heat exchanger consisting of a coolant tube looping through a cluster of fins to increase the exchange surface area. One or more fans force the ambient air over the fins. The refrigerant enters the evaporator as a liquid colder than the surrounding air. It absorbs enough heat from the air to be vaporized completely before the process is repeated.