How to choose this product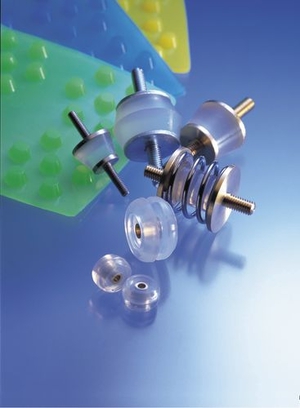 A vibration damper is used when it is necessary to insulate machines producing vibrations and noise pollution. It also reduces twisting and limits wear.
Applications
These devices are commonly placed between the machine and the floor or between static and moving parts within the machine. They are also used in computers and appliances to reduce noise or to increase the stability of a hard drive or other component.
Technologies
Elastic models made of flexible material are intended to damp low-level vibrations or for use with relatively light equipment. Hydraulic and spring models are for heavier machinery.
How to choose
Choice will depend primarily on intended use. Available installation space and load are important factors, as is frequency of activity. Determine desired damping characteristics and the possible need for an adjustable system. Damper durability is a function of the temperature, exposure to oil or corrosive products and other parameters of the operating environment.