How to choose this product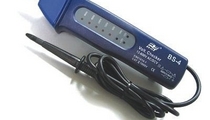 A voltage detector tests the presence or absence of voltage in an electrical line. Both pen and portable multimeter-type models exist.
Applications
These devices are used by electricians to verify that there is no voltage in the circuit on which they must work.
Technologies
Such testers can detect very small voltages. They have a cord long enough to reach a ground point, while the other contact is usually found at the end of the device. Results are displayed on an LCD screen, indicated by LEDs or an audio signal. Many also indicate resistance, rotating field and phase. The tester is checked both before and after each use by touching the two contacts together.

The screwdriver tester with a neon bulb in its handle does not protect the user against short-circuits and is prohibited in professional settings. The bulb lights when the single contact at the screwdriver's tip touches a live circuit and the grounded user touches the a metal piece on the handle. Electronic non-contact testers are replacing these devices for simple, low-voltage testing. Digital multimeters are subject to calibration errors and are sensitive to nearby inductive fields, making them unreliable for test work.
How to choose
Choice will depend on the voltage range, display type and additional features.
Advantages
- Safety for electrical work