How to choose this product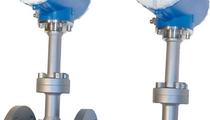 A vortex flow meter uses the turbulence produced by an object placed in a fluid stream (Karman effect) to measure flow. The turbulence creates localized variations in speed and pressure, which are a function of flow. A sensor detects one of these values.
Applications
These meters are widely used in the chemical and petrochemical industries, as well as in the areas of energy and heating. They measure the volumetric flow of saturated or superheated steam, of oil, compressed air, nitrogen or combustion gases, demineralized water or solvents.
Technologies
The frequency of vortex formation is measured by a piezoelectric pressure sensor or by a small thermal flow sensor, which detects localized pulsations. The K factor relates the frequency of vortex production to the flow rate and volume of the fluid. It remains nearly constant over a wide range of flow rates. Measurement error is about one percent, less if the signal undergoes digital treatment.

The meter produces moderate pressure loss. Certain models can withstand temperatures up to 400° C and pressures of 300 bars in pipes whose diameter ranges from 12 to 500 millimeters. Proper function requires a straight upstream run equivalent to 10 to 40 diameters, and a straight downstream run of five diameters.
How to choose
Choice will depend on the instrument's range of measurement and maximum operating temperature and pressure, as well as pipe diameter and the type of output signal.
Advantages
- Rangeability to 20:1
- Accurat
- Modest pressure loss
- Low maintenance costs
Disadvantages
- Not suitable for viscous or turbid liquids
- Sensitive to vibrations
- Requires long upstream pipe