How to choose this product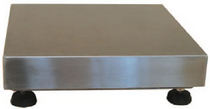 Weighing platforms are scales whose size varies with that of the large objects to be weighed.
Applications
These devices are used to weigh bulky objects: shipping crates, large animals, etc. They are also used as weighbridges for determining truck axle weight. They are found in shipping/receiving settings, in parts counting and for measuring and dosage, among other uses.
Technologies
Weighing platforms can feature complementary functions such as ticket-printing, counting and integrated memory for the calculation of weight differences.

The platform can be equipped with one or several sensors. The use of detectors, strain gauges or electromagnetic force compensation devices ensures precision. These platforms are often stainless steel to avoid corrosion and facilitate cleaning. Some models are appropriate for clean-room use or are explosion-proof for use in hazardous areas.
How to choose
Consider the required precision, the nature of the loads and the operating environment. Specify maximum load dimensions, as well as standard and extreme weight values. Frequency of use (cycles/hour), cleaning parameters and environmental specifics (corrosive, dry, humid or explosive atmosphere) also should be considered.