How to choose this product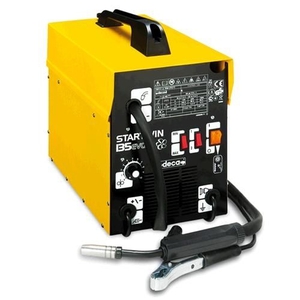 A welding machine uses an electric current passing through electrodes to melt the workpieces. Once the weld area has cooled, the two pieces are permanently joined. The principal processes are shielded, or manual metal arc (MMA), tungsten inert gas (TIG) and metal inert gas (MIG) welding.
Applications
Shielded arc welding is generally used for steel. The TIG process yields quality results with nearly any metal. MIG welding offers high output and a thick weld bead.
Technologies
In the MMA process, an electric arc is produced when the electrode nears the welding point. This creates a weld with the steel electrode as filler, protected by the flux that covers it. Current is controlled to prevent the electrode sticking to the workpiece or the dispersion of the filler.

TIG welding uses a non-consumable tungsten electrode and a separate filler in an inert gas (argon or helium) atmosphere. The heat of the electrode melts the workpieces. The arc is typically generated using high-frequency, elevated voltage.

MIG welding uses a continuous wire electrode and an inert gas to protect against contamination. The spooled wire unrolls automatically to the tip of the torch. Welding rate depends on the preset unrolling speed. A synergic welding set controls this and other parameters.
How to choose
Choice of welding machine will depend on its controls and the parameter adjustment possibilities specific to the welding process employed.