How to choose this product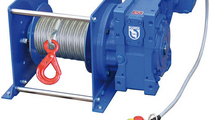 A winch is a mechanical device for pulling or lifting heavy loads. It uses a motor or a manual crank or lever to unroll and roll up the cable or chain to which the load is attached.
Applications
These devices are typically used to handle heavy loads, including the removal of damaged vehicles from the road. They are found on elevators and facilitate operations requiring maintenance workers to descend into silos, pits, bridge pilings and sewer tunnels. At sea, they are employed in barge mooring and towing, and anchor handling via a vertical capstan or horizontal windlass. They are also used on cranes and rescue helicopters.
Technologies
The winch drum is turned by an electric, pneumatic or hydraulic motor, or by a manual crank or lever. Purchase is multiplied by the use of a gear motor, planetary gearing or a worm gear. In most cases the cable is wound on a drum, though there are also drumless models.

The control box has buttons for rolling and unrolling the cable, as well as an emergency stop. A ratchet or centrifugal brake prevents the sudden descent of the load. An electric brake can be used to safely lock the load in position. The winch often has overload protection and end-of-travel sensors to limit cable movement.
How to choose
Choice will depend on required length of travel and power, expressed in weight capacity or in Newtons.