The Online Industrial Exhibition

zoom camera lens
DV2.2X4.1SR4A-SA2L
Focal length: 4.1 mm - 9 mm
Focal Length 4.1 – 9mm (2.2x) Focus Range 0.3m Full HD 6MP Day / Night RoHS Compliant Weight: 135g Iris Range: F1.6 – T360
See the other products
Hanwa Techwin Europe

zoom camera lens
SLA-M2890PN
Focal length: 2.8 mm - 9 mm
Key Features F1.2 P-Iris type auto iris Varifocal 2.8 ~ 9mm / 0.11″ ~ 0.35″
See the other products
Hanwa Techwin Europe

zoom camera objective
FIFO-05858Z
Focal length: 5.5 mm - 58 mm
See the other products
FIFO OPTICS CO., LTD

zoom camera objective
FIFO-06036Z
Focal length: 6 mm - 36 mm
See the other products
FIFO OPTICS CO., LTD

zoom camera objective
TxxxxxFCS, HxxxxxFCS series
Focal length: 2.3 mm - 12 mm
... video-controlled iris is controlled by the electronics of the lens. The camera supplies the lens with the operating voltage and the video signal for balance. Motorised irises are still sometimes used ...
See the other products
CBC (Europe) GmbH

zoom camera objective
TGxxxxxxFCS-IR, HG3Z4512FCS-IR series
Focal length: 1.8 mm - 30 mm
With the further development of the DSPs in the cameras, the direct controls (DC-direct control) became more effi cient and were equipped with additional properties which video-controlled irises did not have. DC-controlled lenses should ...
See the other products
CBC (Europe) GmbH

zoom camera objective
COL-UV-90
The collimating lenses convert divergent beams of light into a parallel beam. The lenses are optimised for the UV/VIS/NIR range, are SMA terminated for coupling to optical fibre assemblies and have anodised aluminium housings. The focal ...

Focal length: 0.84 in
This macro zoom lens covers the 0 to 50x magnification range. The lens incorporates a proprietary design that enables use as a macro lens in the infinity to 5x range ...
See the other products
Hirox Europe

Focal length: 0.79 in - 5.2 in
This zoom lens has a compact body that can be hand held and can accommodate numerous applications by attaching various adapters. Its exclusive adapter is a screw type that allows for smooth detachment. ...
See the other products
Hirox Europe

zoom camera objective
MTV series
Focal length: 25, 35 mm
Main technology Specifications: MTV1614 CCTV Lens: Focal Length: 25mm Aperture: F1.4~F12 Working Distance: 110mm ~ ∞(No extension ring) Support 2/3"CCD MTV2514 CCTV Lens: Focal Length: 25mm Aperture: ...

zoom objective lens
MTD series
Focal length: 32 mm - 250 mm
... setting Inclined Eyetube Microscope, Exchengeable Objectives Double Magnification Video Optical Systems, MTDP Infinite Farness Lens Monocular Video Optical Systems. It can be applied in electric equipments, semiconductor ...

zoom objective lens
VSZ series
The compact Zoom Lenses are available in 10 different types. They feature a high resolution, contrast, and various types of zoom factor that includes 3x, 6x, 8x and 10x. These lenses are telecentric zoom ...

zoom objective lens
VS-MS series
The Microscope Lens is mainly designed to provide an excellent quality performance and functionality. The superior quality series is provided with four microscope bodies with 11 objective lenses to help in the operation ...

Supports camera formats up to 1.2 (15.15 mm x 15.15 mm) Varifocal magnification of 0.3 to 1 Equipped with variable aperture Set screws included to lock movable parts for factory automation Wide wavelength transmission

... image quality through improved light quantity ratio at edges Variable focus and iris equipped with locking set screws Lens OD: 29 mm Uniform filter mount: M27 P0.5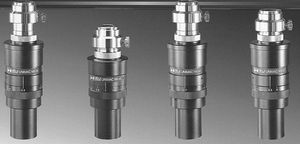 macro objective lens
MS series
Focal length: 173 mm
Meiji Techno's Short UNIMAC Series (Short-Back Focus) represent high performance direct -to-cam zoom lens system. The lens are designed to offer a wide range of features making them perfectly ...

zoom camera objective
CROMLAVIEW FOD series
Focal length: 35 mm - 300 mm
Each application features its own characteristics . To meet the geometric requirements of measuring spot size as well as working distance, a number of optics for all CROMLAVIEW® color sensors are available with an optical fiber connection. ...

Upgrade your light microscope to subatomic resolution Highest Performance: lowest noise all modes available Ease of use: plug and play cantilever exchange Flexibility: DS 95 tip scanner setup with 50 µm or 200 µm scan range Versatility: available ...

Focal length: 60 mm - 125 mm
... shorter and longer versions can also be made available. The assemblies include fine focus adjustment for exact location of the lens to the end of the fiber, or to create a purposely de-collimated beam for specific applications ...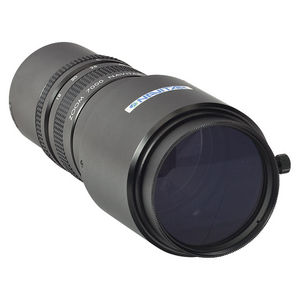 Focal length: 3.5 mm - 108 mm
... 3.5 mm to 75 mm Zoom Lens Covers 18 - 108 mm Focal Lengths Fast Lenses up to f/0.95 Manual Focus and Aperture Control Design Formats as Large as 1" C-Mount Threaded is Compatible with our CCD and CMOS ...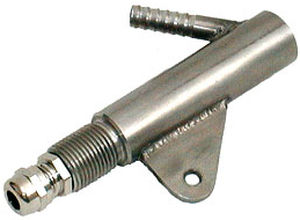 Lenses with stainless steel housings for various fields of view and shapes are available for different applications.

zoom objective lens
378 series
... observed clearly due to the brilliant clearance offered by the long working distance objectives between the surface of the lens and the work piece. The 378 series also offers special objectives with correction for near ...

zoom objective lens
ET-DLE105
Wide Zoom lens for 1-Chip DLP projectors Throw ratio: For WUXGA models: 1.0-1.3:1 For WXGA and XGA models: 1.0-1.4:1

zoom objective lens
ET-ELW22
... 100-inch wide screen.* The powered zoom/focus/lens shift features allow convenient setup by remote control. The ET-ELW22 is compatible with the PT-EZ770 Series and PT-EZ580 Series of Panasonic LCD projectors. The ...