The Online Industrial Exhibition

Supports camera formats up to 1.2 (15.15 mm x 15.15 mm) Varifocal magnification of 0.3 to 1 Equipped with variable aperture Set screws included to lock movable parts for factory automation Wide wavelength transmission

... image quality through improved light quantity ratio at edges Variable focus and iris equipped with locking set screws Lens OD: 29 mm Uniform filter mount: M27 P0.5

Varifocal Lens for Large Image Format ML-0310VF Supports camera formats up to 1.2 (15.15 mm x 15.15 mm) Varifocal magnification of 0.3× to 1× Equipped with variable aperture Set screws included to lock ...

zoom objective lens
SOD-III
SOD-III Compact design Compatible with various bright field lenses from Nikon, Olympus, and Mitutoyo Enables horizontal and various other kinds of mounting options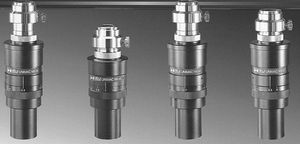 macro objective lens
MS series
Focal length: 173 mm
Meiji Techno's Short UNIMAC Series (Short-Back Focus) represent high performance direct -to-cam zoom lens system. The lens are designed to offer a wide range of features making them perfectly ...

zoom camera objective
CROMLAVIEW FOD series
Focal length: 35 mm - 300 mm
Each application features its own characteristics . To meet the geometric requirements of measuring spot size as well as working distance, a number of optics for all CROMLAVIEW® color sensors are available with an optical fiber connection. ...

... acting drive system, with a precise ball screw and stepping motor, unlike conventional cum systems. The zoom in enabled, without the need for lens changing. The illumination unit (coaxial/oblique illumination), ...
See the other products
Kyocera Optek

zoom camera objective
max. 0.149x
Focal length: 51.55 mm
Kyocera's line-sensor lenses are developed for compatibility with line-sensor applications. Featuring a focal length of 51.55 mm, the device can work at a maximum operating distance of 358.5 mm. The image field size of the lenses reaches ...
See the other products
Kyocera Optek

zoom camera objective
10x, max. f/2.8 | Z10-HDCF
Focal length: 7.5 mm - 140 mm
... definition zoom lens is ultra compact with dimensions of just 45 x 45 x 98.3 mm including the C-mount thread. Although the lens is ultra compact it has big lens performance ...
See the other products
Resolve Optics Ltd

zoom camera objective
304-000
Focal length: 4 mm - 40 mm
... -Chip HD Zoom Lens by Resolve Optics is specifically designed to provide a high quality tightly-packed tracking zoom lens especially created for broadcast quality cameras ...
See the other products
Resolve Optics Ltd

zoom camera objective
S5LPJ030x series
Focal length: 150 mm
... process by a camera system through the scan lens. The field of view is defined by the relation of the focal length of the scan and the camera lens. An integrated illumination system through the camera ...

zoom camera objective
S5LPJ series
Focal length: 3.4 mm - 149.1 mm
The lenses of this group are suitable for sensors with pixelsizes of more than 7 μm. All lenses are available with C-mount.

Upgrade your light microscope to subatomic resolution Highest Performance: lowest noise all modes available Ease of use: plug and play cantilever exchange Flexibility: DS 95 tip scanner setup with 50 µm or 200 µm scan range Versatility: available ...

Focal length: 60 mm - 125 mm
... shorter and longer versions can also be made available. The assemblies include fine focus adjustment for exact location of the lens to the end of the fiber, or to create a purposely de-collimated beam for specific applications ...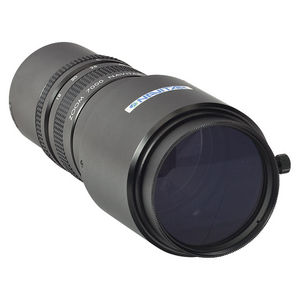 Focal length: 3.5 mm - 108 mm
... 3.5 mm to 75 mm Zoom Lens Covers 18 - 108 mm Focal Lengths Fast Lenses up to f/0.95 Manual Focus and Aperture Control Design Formats as Large as 1" C-Mount Threaded is Compatible with our CCD and CMOS ...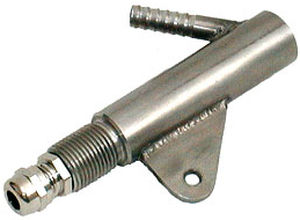 Lenses with stainless steel housings for various fields of view and shapes are available for different applications.