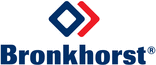 Booth:
Bronkhorst
Coriolis flow meter / mass / for low flow rates

max. 3 900 ln/min | mini CORI-FLOW™ series
Bronkhorst
Characteristics
Technology:

Coriolis, mass

Application:

for low flow rates
Description
The mini CORI-FLOW™ series by Bronkhorst Cori-Tech B.V is a tightly packed and a cost-efficient Coriolis mass flow meter and controller intended for use in low flow gas and liquid applications. This model is unaffected by the fluctuating conditions such as pressure, temperature, density, conductivity and viscosity, delivering exemplary and high performance operation in all circumstances. What singles this model out from other similar products is an integrated PID control combined with close-coupled control valves or pumps. The new CORI-FLOW™ series can provide accurate operation from lowest 0.15 g/h to highest 3,300 kg/h ranges and offers the number one compact and accurate cost-saving solution for low flow liquid and gas regulation on the modern market.
Other Bronkhorst products
GAS Mass Flow Meters & Controllers