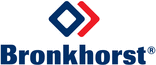 Booth
Bronkhorst
Coriolis mass flow-meter for low flow rates

max. 30 kg/h, ATEX Zone2, IP65 | mini CORI-FLOW
Bronkhorst
With the the development of the mini CORI-FLOW® series Bronkhorst Cori-Tech B.V. achieved a technological breakthrough in Coriolis mass flow measurements and control, by realising a compact, cost-effective Coriolis Mass Flow Meter/Controller for accurate measurement and control of (very) low flow rates. The unique design of the miniature Coriolis sensor features unsurpassed performance, even with changing operating conditions in pressure, temperature, density, conductivity and viscosity. Contrary to many other Coriolis flow meters on the market, mini CORI-FLOW® offers integrated PID control and close-coupled control valves or pumps, thus constituting very compact, cost- and space-saving Coriolis Mass Flow Controllers for liquids and gases.

Lowest range 0.4…20 g/h (5.4…270 mln/min N2)
up to highest range 0.3…30 kg/h (4…400 ln/min N2)
Digital technology

mini CORI-FLOW® features state-of-the-art digital technology, offering fieldbus interface options and additional functions such as totalisation and alarms. The instruments can be tuned according to customer requirements using the RS232/fieldbus interface and a number of free to use software tools.
Other Bronkhorst products
Flow, Pressure and Level Measurement
Valves